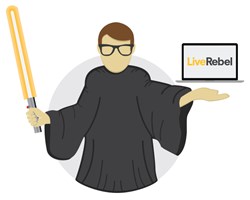 Boston, MA (PRWEB) January 28, 2014
ZeroTurnaround, the company that's helping software eat the world faster, announced today the availability of LiveRebel 3.0, its application release automation product that helps release and operations teams get software to users safely and quickly.
Enterprises have multiple, inter-connected applications that power day-to-day operations and fulfill customer engagement. As needs constantly evolve, developers, with agile practices, deliver updates even faster, while release and operations teams are tasked to roll them out to users just as quickly.
"With different development teams building application modules, releases require careful coordination and thoughtful processes. Poor configuration or missing modules can lead to deployment failures causing outages, unhappy customers, expensive troubleshooting, and lost revenue," says Jevgeni Kabanov, CEO of ZeroTurnaround.
LiveRebel 3.0 enable release and operations teams to safely validate and deploy multiple, applications, including code, database and configuration. Users can:

Create multi-app deployment plans that includes db, configuration and content
Validate configurations prior to deploying applications
Concurrently deploy multiple applications with no downtime
Quickly recover from failure ensuring that customers are never impacted
Available today, LiveRebel 3.0 helps release and operations teams package and rollout releases safely without needing to juggle through deliverables during release windows. Join ZeroTurnaround's webinar on January 30 at 14:00 CET (8:00 AM EST) to see LiveRebel 3.0 in action.
For more information about LiveRebel, please visit http://www.liverebel.com or follow @LiveRebel on Twitter.
###
About ZeroTurnaround
ZeroTurnaround was founded in 2007 by Jevgeni Kabanov and Toomas Romer in Tartu, Estonia. Today, ZeroTurnaround is the labor of love by a global team of 100+. The company's go-to-market heart beats in Boston, USA, while its development feet are firmly planted (and rapidly growing) in Estonia, at two offices in Tallinn and Tartu. It also has a small but spunky branch in Prague, Czech Republic.