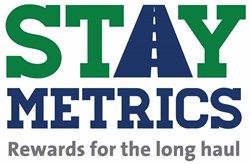 Stay Metrics gets drivers to stay longer and perform better -- measurably.
South Bend, IN (PRWEB) January 28, 2014
A little over a year ago, CCJ published an article about Load One's strategy to focus on driver retention rather than spending more money on recruiting. This strategy led them to Stay Metrics and their innovative approach and technology in the trucking industry.
Stay Metrics is a driver rewards and recognition program combined with a survey system customized for each carrier. It is proven to improve driver retention and performance and to modify behavior in the organization. One of the most important pieces of information created by Stay Metrics is it's predictive modeling. These predictive modeling techniques show you which drivers are at risk of leaving -- and why. It gives the carrier clear information that allows you to preempt negative issues before they arise and to promote longevity behind the wheel.
Within three months, Load One experienced significant improvement in its driver retention with turnover dropping a full 10 percent in the first quarter using the program. Since then Load One has been using the program for over a year. In that time, Stay Metrics has continued to positively impact Load One's driver retention, safety training engagement, amount of users logged in, amount of items purchased by drivers with reward points and several other areas.
Interested in Stay Metrics and their Drive For Gold program? Sign up for demo here.