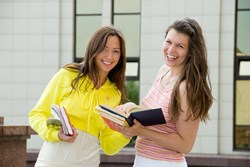 The quicker emergency personnel can respond and pinpoint where an emergency is unfolding, the more lives will be saved.
Garden City, NY (PRWEB) January 28, 2014
Life Button 24 announces emergency panic systems for schools, connecting users directly to a police department, emergency responder and or Life Button's UL-listed emergency dispatch center at the press of a button. Life Button 24 comes on a wearable or hand-held pendant or an app installed on a smart phone easily activated and able to by-pass log-ins typically found on mobile phones. The panic system can also activate area surveillance cameras providing a view into unfolding emergency situations. A feature on the app will provide users with the option to send video clips while in communication with emergency authorities. "In an emergency the Life Button 24 Emergency Panic System for schools provides users with several emergency features decreasing the response time. The quicker emergency personnel can respond and pinpoint where in the building the emergency is unfolding, the more lives will be saved," explained Kenneth Mara, President and CEO of Life Button 24.
Life Button 24 emergency panic systems for schools is unlike any other panic device on the market due to the product's many unique security features. Life Button 24 Freedom and app have the ability to integrate with on site camera systems, utilize the video feature of a smart phones while engaging in two-way conversation with authorities, silence features allows authorities to listen-in with out being noticed if user is in a perilous situation and GPS locating to assist authorities in locating the emergency. "Life Button 24 provides powerful emergency tools no school should be with out as part of their emergency response plan. With our powerful new app, teachers should have the app downloaded on their phone. Seconds count in an emergency and Life Button 24 has the features to address dangerous situations and get help," stated Mark Fischer, Director of Technology Development.
About Life Button 24:
Life Button 24 is as a total emergency response program designed to let people continue to live confidently and independently but with the comfort of knowing help is only seconds away. Utilizing specially trained emergency dispatchers at World Wide Security Group's UL-listed central station the company provides response over a two-way voice pendant or smart phone app. Both our pendant and app, incorporate GPS technology to provide the users location to our operator for directed emergency response or reassurance while if the user feels threatened. Enjoy peace-of-mind that comes with knowing help is just a push button away. But the system is much more than a button, when used in commercial applications we can access existing video systems, access control and take command and control of an event.
Life Button 24 is part of the World Wide Security Group, which has served the security and life safety needs of customers since 1979.