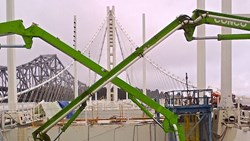 Almost all of the concrete work items Conco was asked to perform by ABFJV were custom, one-of-a-kind scopes that we will probably never see again.
(PRWEB) January 29, 2014
After the highly publicized reports from this past summer regarding the failure of 32 anchor rods on the eastern span of the new Bay Bridge, the highly regarded concrete contractor, Conco was retained by the general contractor, American Bridge/Fluor Enterprises, Inc. JV, to assist with the repair work. Based on their earlier performance with other critical and technically challenging components of the new bridge structure, Conco was the logical choice. "Every aspect of this project had complex technical challenges," said Brian Petersen, the contractor's Project Director, and "Conco's skill and expertise was a great asset to our team."
The defective anchor rods were supposed to secure the bridge deck to the concrete crossbeam support. After extensive collaboration and analysis, a fix was designed. It involved a complex series of steel saddles and post-tensioned (PT) jacket walls that would provide the required clamping force to secure the bridge deck framing to the E2 crossbeam. Temporary steel shims were inserted while the repairs were being done, and in order for the Labor Day opening to go forward as planned. "The SAS bridge is part of a world-class megaproject which features a large amount of challenging concrete work associated with temporary support structures that are not part of the completed bridge," noted Jim Klinger, Conco's project manager.
For this very complicated problem, Conco's first task was to deck in a steel-framed trestle platform to give work crews access to the site and eliminate the potential for materials to fall into the San Francisco Bay. Once the platform was complete, Conco crews roughened the crossbeam surface and epoxied over 3,000 drilled dowels into place. Reinforcing steel and PT cable ducts were then installed by Harris Salinas. Conco crews followed, placing custom-made PT trumpet blockouts and setting forms for the jacket walls.
The concrete jacket wall structures were placed in three pours totaling 380 cubic yards. Due to restricted access and rebar congestion, much of the concrete had to be pumped 250 feet and then injected into the forms through ports at strategic locations. Conco worked closely with concrete supplier, Central Concrete, to develop an injectable SCC mix with silica fume that would meet the project's specifications. A full-scale mockup was constructed and successfully tested to ensure the long-distance pumping and injection of the highly-flowable SCC mix would work.
"Almost all of the concrete work items Conco was asked to perform by ABFJV were custom, one-of-a-kind scopes that we will probably never see again," said Klinger. In late November, the third and final injection was finished and the repairs were completed successfully.
About The Conco Companies:
Conco has been delivering premium concrete services throughout the Western U.S. since 1959. We continue to upgrade and expand facilities to better serve the growing market for public works projects, commercial, educational, parking structures, and other construction development. The Conco name has been an integral partner on many architecturally distinguished projects, and we commit to bringing that same standard of excellence to each job we undertake.