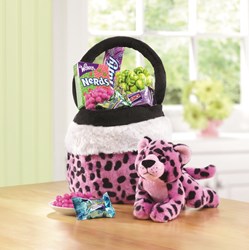 With choices ranging from delectable chocolates and delightful plush gifts - to the romance of a wine and chocolate pairing - SwissColony.com has perfected Valentine's Day gift giving.
Monroe, Wisconsin (PRWEB) January 28, 2014
Surprise the littlest of Valentines with loveable gifts. The Cheetah Purse with Snacks ($24.95) will delight tiny fashionistas. A plush pink cheetah is nestled in a matching purse and features an array of snacks including green apple popcorn, mini Butterfinger and Nestle Crunch bars, Nerds, Laffy Taffy and Sixlets. It's a purrrfect accessory for the girl on the go.
Or, order a cuddly new friend for a Valentine this year. Cat lovers will enjoy the wide-eyed, tiger striped tabby, Clarissa the Cat ($16.95). She is seven inches of sweetness and comes with yummy chocolate mini ice cream cones sure to please her new owner.
Show affection with the loving eyes of Teddy Bear Meltaways ($24.95). This gift of 12 chocolate bears come wearing hearts of devotion and have a luscious meltaway center certain to melt the heart of a certain sweetie.
How do I love thee? Together count the sparkling, jewel-finished treats in the Jelly Belly® Valentine Jar ($19.95). Each 14 ½ ounce old-fashioned glass jar includes Bubble Gum, Cream Soda and Very Cherry flavored Jelly Belly jelly beans.
Show a romantic side with Chocolate Lovers Delight ($29.99). Sweet, crunchy macadamia nuts are coated in a milk chocolate blend for an irresistible snack. Pair them with Chocolate Shop wine, a sumptuous drink that marries chocolate flavor with red wine. This exciting pairing was developed by the wine experts at wine.com and the specialty food experts at The Swiss Colony.
"With so many choices ranging from delectable chocolates and delightful plush gifts to the romance of a sparkling wine and truffle pairing, we have the perfect gifts for all your special Valentines," says Becky Henke, VP of Food at Swiss Colony.
To see the entire line up of Valentine's gifts available at The Swiss Colony, along with the company's traditional and novelty offerings including baked goods, chocolates, candies, meats and cheeses, shop online at http://www.swisscolony.com. To take advantage of low shipping costs, place orders by February 3.
About The Swiss Colony
The Swiss Colony is a family-owned Wisconsin company that has been creating food gifts for more than 87 years. The company insists on the highest quality ingredients for a large selection of festively packaged gifts for every occasion. Exclusive recipes developed by European Master Bakers and hand-decorated novelties like no other are just two of the reasons customers include The Swiss Colony as part of their holiday traditions year after year.
Jelly Belly® is the registered trademark of Jelly Belly Candy Company, Fairfield, CA.
NESTLE CRUNCH®, BUTTERFINGER®, LAFFY TAFFY® and NERDS® are registered trademarks of Societe des Produits Nestle S.A. Vevey Switzerland.
Sixlets® Reg. TM of SweetWorks, Inc.