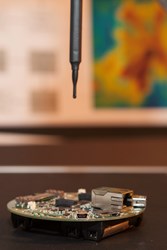 Entry-level engineers who specialize in electromagnetic compatibility are in high demand.
Grand Rapids, MI (PRWEB) January 29, 2014
A new center at Grand Valley State University is working with West Michigan companies to develop and test new electrical products entering the marketplace. The Electromagnetic Compatibility Center (EMC), which pairs students with local companies, is the first of its kind in West Michigan.
The center, located at 609 Watson St. near the Pew Grand Rapids Campus, provides pre-compliance testing, design support and education. The 4,000-square-foot center includes a compliance lab and seminar room.
Bogdan Adamczyk, professor of electrical engineering, noticed a need for the center two years ago. "West Michigan is an area of innovation and growth. Many big research universities have EMC research centers, but I've never heard of one that offers pre-compliance testing for local companies and provides a practical experience for students," he said.
All electrical devices must be certified for EMC compliance, explained Adamczyk. "If a device is not approved, the design must be altered and tested some more, which can be expensive and time consuming for small- to medium-sized companies. They can come to the center to continue testing expediently and at an attractive rate," said Adamczyk.
The lab includes measurement and diagnostic tools, including three chambers that measure radiated emissions and immunity of electronic devices. Two additional chambers are currently being assembled. Adamczyk said the center has helped several companies already.
"Entry-level engineers who specialize in electromagnetic compatibility are in high demand," he said. "Any company that develops and builds electrical devices needs EMC engineers."
The School of Engineering in the Seymour and Esther Padnos College of Engineering and Computing currently has nearly 1,800 enrolled students, a record. About 200-250 students are majoring in electrical engineering.
For more information about the EMC Center, visit http://www.gvsu.edu/engineering/EMCCenter. For additional, contact Bogdan Adamczyk at adamczyb(at)gvsu(dot)edu or 616-331-7286, or PCEC Dean Paul Plotkowski at (616) 331-6260 or plotkowp(at)gvsu(dot)edu.
Grand Valley State University, one of the 100 largest universities in the nation, attracts more than 24,000 students with high-quality programs and state-of-the-art facilities. Grand Valley is a comprehensive university serving students from all 83 Michigan counties and dozens of other states and foreign countries. Grand Valley offers 82 undergraduate and 31 graduate degree programs from campuses in Allendale, Grand Rapids and Holland, and from regional centers in Muskegon and Traverse City. The university is dedicated to individual student achievement, going beyond the traditional classroom experience, with research opportunities and business partnerships.