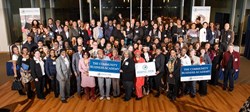 The Community Business Academy taught us how to take our ideas and passions from startup to full- fledged enterprises.
Jersey City, New Jersey (PRWEB) January 27, 2014
Last Thursday 111 entrepreneurs—including 14 students from the inaugural Spanish class—graduated from Jersey City nonprofit Rising Tide Capital's (RTC) Community Business Academy (CBA). More than 100 graduates and their families, community leaders, RTC funders and volunteers attended the ceremony which was held in the newly built Mac Mahon Student Center at Saint Peter's University. A representative from each of the six classes addressed the audience with a brief speech about their experience as an entrepreneur and students of the CBA—where they learned business fundamentals to help them start or grow successful enterprises.
"As entrepreneurs we pursue our dreams by virtue of our passion and commitment to an idea. At times it may seem like a never ending struggle," said Joseph Epps. "The Community Business Academy taught us how to take our ideas and passions from startup to full- fledged enterprises."
The ceremony included a special announcement from Bank of America by Senior Vice President, New Jersey market manager Etta Denk, who presented RTC with the Neighborhood Builders® award and a $200,000 check. The funds will be used to develop a new information management system to expand Rising Tide Capital's scale within New Jersey.
Theresa Bedeau, who represented Capital One—a 2013 supporter of RTC's Hispanic outreach—also delivered special remarks to the graduating students of the first-ever Spanish CBA class.
"With 839 entrepreneurs—many of them from underserved urban areas—and critical funders like Bank of America and Capital One we are well on our way towards building a more hopeful and dynamic economic future for our communities," said co-founder and CEO Alfa Demmellash. "The Spanish CBA class will significantly expand the impact of our work. We are so excited to achieve this milestone in Rising Tide Capital's tenth year!"
The Fall 2013 class will join RTC's current alumni network of 728 entrepreneurs—353 who are currently in business and 309 who are in the planning stages. The CBA, offered in locations throughout Hudson and Essex Counties, teaches entrepreneurs business fundamentals including budgeting, marketing, bookkeeping and financing. Each CBA student receives a full-tuition waiver—valued at $3,000—which is covered by Rising Tide Capital's funding partners.
As new graduates, all 111 entrepreneurs have the option to continue working with RTC though the Business Acceleration Services Program, gaining financing opportunities, year-round coaching and mentoring, business networking seminars, and access to the Rising Tide Help Desk—a network of legal, accounting, and marketing professionals who offer exclusive below-market rates to graduates.
"The continued support we receive after graduation is priceless. Knowing that I have a community of support to help me navigate the business world, will build my confidence, keep me focused and foster even more determination. With RTC's support I can only go up, up and away," said Denise Phillips, Fall 2013 graduate and licensed massage therapist.
Rising Tide Capital
Rising Tide Capital is a Jersey City-based nonprofit organization founded by Harvard graduates Alex Forrester and Alfa Demmellash in 2004. We believe that the best way to revitalize local economies is to support the entrepreneurial energy and talent that exist in every neighborhood. Rising Tide Capital's programs provide entrepreneurs with:

Knowledge Capital- affordable classes that teach entrepreneurs how to plan, start and run a business;
Social Capital- professional coaching, mentoring and networking opportunities with other entrepreneurs and local business experts; and
Access to Financial Capital- guidance on financial planning and accessing funding.
Our model for supporting local entrepreneurship has received national recognition—from President Barack Obama to CNN Heroes—but our true success is in our entrepreneurs. When they succeed, they not only generate income for their families, but also create a ripple effect when they pay taxes, source locally and hire employees. To learn more, visit http://www.RisingTideCapital.org and follow us on Twitter @RisingTideOrg.
About the Community Business Academy
Founded in 2006, the Community Business Academy provides entrepreneurs with the tools, concepts and skills needed to plan and operate a successful business. Classes are currently offered in high-unemployment communities in Jersey City, Union City, Newark and the City of Orange Township on weekday evenings and Saturday mornings. To date, 839 entrepreneurs have graduated from the program with the assistance of tuition-waivers which are generously underwritten by Rising Tide Capital's funders.
To learn more, visit http://www.Programs.RisingTideCapital.org.
Media Contact:
Shanea Phillips
Public Relations Assistant, Rising Tide Capital
201-432-4316 x 110
Shanea(at)risingtidecapital(dot)org