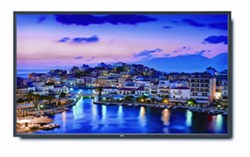 Our new screen is ideal for video wall installations requiring multi-touch interactivity.
Austin, TX (PRWEB) February 19, 2014
TouchSystems grows its value-added V Series line of large-format touch displays with an 80 inch screen. The screen, based on the NEC V801, is integrated with infrared and is available as a dual-touch (two touch points) or multi-touch (six or 12 touch points) solution.
Carol Nordin, president of TouchSystems, says, "A number of our customers in retail and education environments have expressed interest in touch screens exceeding 55 inches. We believe larger screens will continue to increase in popularity as will multi-touch technologies. Our newest display brings both elements to bear; it's large at 80 inches and is sold with as many as 12 points of touch."
The V8080I-U is designed for 24/7 use. Its commercial-grade, i.e., durable, components, are complemented by LED-backlighting, a full HD panel, and a high contrast ratio (5000:1). It features built-in speakers, expanded connectivity with digital loop-through, and a built-in expansion slot that supports the Open Pluggable Specification (OPS). It also is designed with energy efficient measures such as an ambient light sensor and carbon footprint meter. It can be mounted in a landscape or portrait orientation.
TouchSystems was established in 1996. The company is a pioneer in the touch technology industry. TouchSystems works with its customers to create innovative touch solutions, such as desktop touch monitors, interactive digital signage, all-in-one systems, kiosks, and industrial controls and peripherals. TouchSystems is based in Hutto, Texas and is a certified woman- and minority-owned small business. For more information, call (512) 846-2424 or visit http://www.touchsystems.com. TouchSystems also can be followed on Twitter at http://twitter.com/Touch_Systems and on Facebook at http://www.facebook.com/TouchSystems.