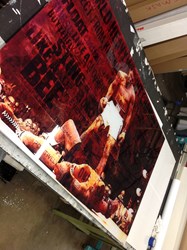 We are thrilled with the continued interest and support we've received from the interior design community. Their ideas and suggestions are what keep us at the forefront of this fast-moving industry.
Los Angeles, CA (PRWEB) January 29, 2014
With the most diverse high end printing capabilities in North America, Prolab Digital is the preferred source for interior designers seeking large and grand format prints, as well as fine art. The full scope of Prolab's capability allows for an unparalleled diversity of interior and exterior graphics, signage, and museum-quality art.
Unlike other companies that specialize in billboards or cheaper materials, Prolab Digital has made its mark in the museums and galleries of the world, producing images for prestigious gallery exhibits, award ceremonies, and Hollywood events. Now, interior designers are coming to the company in droves, looking for printed materials for murals, wallpapers, and building wraps.
This trend can be readily seen in the grand opening of Anaheim's new Hotel Indigo, a quirky boutique establishment with unconventional decor. Prolab Digital spearheaded the image production for the facility, creating enormous murals, high fidelity room decorations, perforated window vinyls, and a complex multi-story exterior adhesive vinyl wrap staircase cover.
The trendy Komodo Restaurant in Los Angeles recently incorporated one of Prolab Digital's full sized black and white wall murals into their decor. While Hilton Garden Inn Hotels chose beautiful high fidelity prints on acrylic using Prolab Digital's state of the art UV flatbed printer for 26 of their newly renovated hotel lobbies.
Restaurants, hotels, hospitals, and corporate offices regularly turn to Prolab Digital for their image production needs. Trusted for over two decades, and expanding into even wider market segments, Prolab Digital is unrivaled in its ability to produce high quality images for any decorative needs.
About Prolab:
Prolab Digital Imaging is the world's premier source for high quality printed graphics for corporate, artistic, and personal display. Trusted by the Fortune 500, the Academy Awards, and discriminating consumers alike, visit prolabdigital.com for more information.