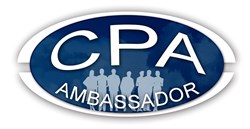 I hope to ensure the good men and women in the CPA profession are provided with their due respect.
Phoenix, AZ (PRWEB) January 28, 2014
Podraza CPA announced that its Principal, Benjamin Podraza, CPA has been selected by the American Institute of Certified Public Accountants to represent the profession as a CPA Ambassador. Working in conjunction with state societies, like the Arizona Society of Certified Public Accountants, the program aims to help communicate the untold story and value of the CPA profession in the community.
The CPA Ambassador program emphasizes the value of CPAs in four critical message quadrants: financial literacy, recruitment, partnering with small business for success and the work CPAs perform in the public interest. Participation in the program will put Podraza CPA at the forefront of improving the profession's quality and control standards, combating fraud and shoring up small businesses that represent the economic engine of the US economy.
The CPA Ambassador program provides support tools including prepared speeches, talking points, guidance on handling tough media questions, and briefings on related issues that dominate today's headlines. The specialized training and support that Benjamin Podraza receives as a CPA Ambassador makes him an ideal candidate to communicate why CPAs are among the most trusted advisors to businesses and individuals in America.
"My father, Richard Podraza, CPA, spent his career helping build public trust and confidence in the CPA profession. In participating in the CPA Ambassador program I hope to honor my father's legacy and ensure the good men and women in my profession are provided with their due respect", says Benjamin Podraza. Through the CPA Ambassador program, Benjamin Podraza will promote the depth of CPA's financial knowledge, underscore the AICPA and state societies' effectiveness as advocates for the public interest, and focus the spotlight on the profession in a manner that shines on the value of CPAs.
About Benjamin Podraza, CPA:
Benjamin Podraza is a second generation Certified Public Accountant with more than 18 years experience in public practice. Ben has a Bachelor of Science in Accounting and Master of Science in Taxation from Arizona State University, where he graduated at the top of his class. He is a member of the American Institute of Certified Public Accountants (AICPA), where he volunteers as a CPA Ambassador and a member of the Arizona Society of Certified Public Accountants, where he currently sits on the association's IT steering committee. He has a wealth of knowledge about accounting, tax consulting, financial management, investments, technology, and business operations and has authored several articles on taxes and accounting. Ben prides himself on his professionalism and his entrepreneurial spirit allows him to act as a sounding board for clients' new business ventures and investment strategies.
About Podraza CPA:
Podraza CPA offers a wide range of services designed to help their clients reach their long-term financial goals. In addition to preparing personal and business tax returns, they also offer numerous services geared to help individuals and business owners. Business services include developing accounting policies and internal control systems, business valuations, financial modeling and forecasting, loan packaging and performance measurement and compensation, as well as, bookkeeping and payroll services. Individual services include income tax preparation, personal financial planning and gift, trust and estate tax planning. For more information, contact Podraza CPA at 480-998-3945 or visit their website at http://www.podrazacpa.com.