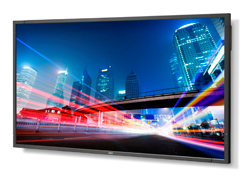 The P4050D-U3 offers more connectivity options and LED edge-lighting.
Austin, TX (PRWEB) March 19, 2014
TouchSystems has improved its P Series, a line of industrial-grade, large-screen touch displays, with the third generation P4050D-U3 and P4650D-U3. The two displays are integrated with DST, a single-touch touch technology.
"We couldn't be more excited about these new touchscreens," says Carol Nordin, president of TouchSystems. "These two displays feature a dual expansion slot, offering even more connectivity options than before. In addition, the displays have LED edge-lighting, which lowers the total cost of ownership year after year."
The P Series is a professional line of displays designed for 24/7 operation in environments such as retail, restaurants, and airports. The LED edge-lighting is both a utilitarian feature and an aesthetic one. It saves on energy costs, and it results in a slimmer bezel. The displays also boast a new chassis, built-in speakers, and added thermal protection through internal temperature sensors with self-diagnostics and fan-based technology. The most highly touted feature is the dual expansion slot; NEC calls the feature "customizable connectivity," and it's one that further simplifies digital signage installations and maintenance.
TouchSystems was established in 1996. The company is a pioneer in the touch technology industry. TouchSystems works with its customers to create innovative touch solutions, such as desktop touch monitors, interactive digital signage, all-in-one systems, kiosks, and industrial controls and peripherals. TouchSystems is based in Hutto, Texas and is a certified woman- and minority-owned small business. For more information, call (512) 846-2424 or visit http://www.touchsystems.com. TouchSystems also can be followed on Twitter at http://twitter.com/Touch_Systems and on Facebook at http://www.facebook.com/TouchSystems.