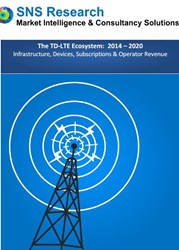 Rockville, MD (PRWEB) January 29, 2014
The TD-LTE Ecosystem: 2014 - 2020 - Infrastructure, Devices, Subscriptions & Operator Revenue
SNS Research's latest report indicates that TD-LTE infrastructure spending is expected to reach $13 Billion by 2020.
Driven by the technology's lower deployment costs and spectrum availability, the industry witnessed several prominent TD-LTE network deployments over the past three years including SoftBank in Japan, Sprint in the US and Bharti Airtel in India.
More than 60 operators have committed to deploy TD-LTE networks throughout the globe. Furthermore, all major device OEMs, including smartphone leaders Apple and Samsung, have commercially launched TD-LTE compatible devices. A major proportion of these devices support both TDD and FDD modes of operation over multiple frequency bands.
China Mobile's TD-LTE network launch will enable the TD-LTE ecosystem to reach a significant scale of economy, which will boost further infrastructure and device investments in TD-LTE technology. China Mobile's TD-LTE network is expected to have 500,000 base stations in operation by the end of 2014.
Driven by the thriving ecosystem, TD-LTE infrastructure investments on macrocell and small cell equipment are expected to grow at a CAGR of 15% over the next 6 years, eventually reaching $13 Billion by the end of 2020.
The "TD-LTE Ecosystem: 2014 – 2020 – Infrastructure, Devices, Subscriptions & Operator Revenue" report presents an in-depth assessment of the TD-LTE market including key market drivers, challenges, operator revenue potential, infrastructure/device deployment commitments, future roadmap, value chain, expert interviews, vendor strategies and strategic recommendations. The report also presents revenue and shipment market size and forecasts for both infrastructure and devices, along with subscription and service revenue projections for the LTE market as a whole, as well as separate projections for the TD-LTE and LTE FDD sub-markets from 2014 through to 2020. Historical figures are also presented for 2010, 2011, 2012 and 2013.
To order this report:
The TD-LTE Ecosystem: 2014 - 2020 - Infrastructure, Devices, Subscriptions & Operator Revenue
Contact: Shauna
800.298.5699
Customerservice(at)marketresearch(dot)com
Signals and Systems Telecom
Signals and Systems Telecom provides market intelligence and turnkey outsourcing services covering the telecommunications industry sector. Developed by leading industry analysts our market forecast reports provide unique insights to the global telecommunication industry with information ranging from niche details of handset models to tracking of large network infrastructure contracts and cellular network operator metrics.
About MarketResearch.com
MarketResearch.com is the leading provider of global market intelligence products and services. With research reports from more than 720 top consulting and advisory firms, MarketResearch.com offers instant online access to the world's most extensive database of expert insights on global industries, companies, products, and trends. Moreover, MarketResearch.com's Research Specialists have in-depth knowledge of the publishers and the various types of reports in their respective industries and are ready to provide research assistance.
Follow us on Facebook: http://www.facebook.com/marketresearchdotcom
Follow us on: Twitter http://www.twitter.com/marketresearch_
The TD-LTE Ecosystem: 2014 - 2020 - Infrastructure, Devices, Subscriptions & Operator Revenue - Table of Contents:
Chapter 1: Introduction
Chapter 2: An Overview of TD-LTE
Chapter 3: Market Drivers & Barriers
3.1 Market Drivers
3.1.1 Capitalizing on Unpaired Spectrum
3.1.2 Ease of Spectrum Acquisition
3.1.3 Flexible Uplink and Downlink Capacity
3.1.4 Interoperability with LTE FDD
3.1.5 Vendor Endorsement
3.1.6 Cheaper Hardware Costs
3.1.7 Smooth Transition from WiMAX and TD-SCDMA
3.1.8 TD-LTE is Not Just a RAN Technology
3.2 Market Barriers
3.2.1 Coverage Comparison with FDD
3.2.2 Transmission Synchronization
3.2.3 Use of Guard Periods
3.2.4 Discontinuous Reception
Chapter 4: TD-LTE Deployment Case Studies
Chapter 5: Industry Roadmap & Value Chain
Chapter 6: Expert Opinion – Interview Transcripts
Chapter 7: Vendor Landscape
Chapter 8: Market Analysis & Forecasts
Chapter 9: Conclusion & Strategic Recommendations