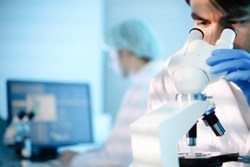 Ann Arbor, MI (PRWEB) January 28, 2014
Avomeen Analytical Services serves manufacturers, pharmaceutical companies, lawyers, and other laboratories with exceptional analytical services in order to formulate new products, investigate product failures, and solve a host of other tough problems. In addition to Avomeen's state-of-the-art in-house instruments they have developed a relationship with some of the world's premier universities in order to access the finest analytical instrumentation available.
Working with universities like the University of Michigan and Eastern Michigan University sets them apart from other analytical laboratories in that it allows their chemists to utilize new facilities and specialized instruments that most laboratories do not have access to. It also allows them access to some of the most talented emerging chemists to hire upon graduation and enables their company to find exceptional student interns. Avomeen is only a few miles south of the University of Michigan's main campus, the relationship with the university allows their chemists to maintain complete control of testing processes that would otherwise need to be contracted to partner laboratories. Access to these instruments enables Avomeen to provide their clientele the best results research can offer as these resources better aid their chemists in solving complex problems and creating new formulations.
A few examples of the specialized instrumentation Avomeen utilizes on these campuses are XPS, NMR, TEM, SEM, and RAMAN. These instruments cost anywhere from $1 Million to $3 Million apiece; access therefore adds a tremendous benefit to the company without the cost of having them in-house.

XPS – X-ray Photoelectron Spectroscopy is used to measure the elemental composition at the surface of a material (0-10nm) and the chemical state of the elements present. It is often used to analyze inorganic compounds, metal alloys, polymers, paints, inks, make-up, oils, and ion-modified materials.
NMR – Nuclear Magnetic Resonance Spectroscopy is used to determine the physical and chemical properties of atoms or molecules. It is often used to analyze organic molecules, and can be applied via solid-state NMR or solution-state NMR to any solid or solution sample whose atoms contain nuclei with spin.
TEM – Transmission Electron Miscroscopy is an imaging technique used to observe modulations in chemical identity, electron structure, and crystal orientation.
SEM – Scanning Electron Miscroscopy is an imaging technique used to produce high resolution images at more than 500,000 times magnification.
RAMAN – Raman Spectroscopy is used to identify molecules by their vibrational information which reveals characteristics about their chemical bonds and molecular symmetry. This is used to characterize materials, reveal crystal orientation, and observe low frequency excitation of solids.
With these resources always available to their chemist and formulation experts, Avomeen performs investigative chemical analysis at an even greater scale and efficiency. They look forward to this collaboration growing with time as they continue to conduct the best research possible and produce exceptional results for their clients.
For more information regarding Avomeen's services visit http://www.avomeen.com or call us at 800.930.5450.