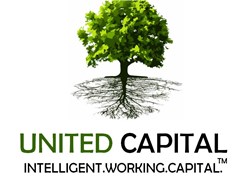 Saint Petersburg, Florida (PRWEB) January 30, 2014
United Capital Funding Corp., the leading provider of professional Accounts Receivable based funding and credit management solutions in the United States, announced today it will again be a Corporate Sponsor at the 13th Annual Suncoast Hospice Gala and Benefit, to be held on Saturday February 1, 2014 at The Vinoy Resort & Golf Club, Saint Petersburg, Florida. This is the second year that United Capital has been a Corporate sponsor for the event that generates revenue to ensure that the Mission of the Suncoast Hospice to improve life for those touched by advanced illness, death, dying, grief, bereavement and other end of life issues is achieved.
"We are honored to be able to support the amazing work done by The Suncoast Hospice," commented Mark Mandula, Managing Partner of United Capital Funding. Mandula also noted that, "We fully support the mission of The Suncoast Hospice and know that their efforts are truly valued in the Tampa Bay community."
About Suncoast Hospice
Founded in 1977 by volunteers, Suncoast Hospice was born out of the vision of an exceptional group of people who realized the value of hospice care and wanted it for their families and neighbors. Today, their vision and mission remain the cornerstones of their work and organizational soul. Suncoast Hospice is a not-for-profit organization committed to serving those living with chronic and terminal illnesses, nearing the end of life, or experiencing grief. Suncoast Hospice cares for patients and helps to guide their families as they provide care and make decisions. Suncoast Hospice is community based, offering comprehensive hospice and palliative care, caregiver education, individual and group counseling, spiritual support and many other programs to those it serves regardless of race, age, faith, diagnosis or financial circumstances.
About United Capital Funding Corporation
United Capital Funding Corporation provides Intelligent Working Capital via factoring, credit insurance coverage and efficient Accounts Receivable management solutions to clients nationwide. These professional services allow clients to strengthen their cash flow, streamline internal operations and assist them in competing successfully in the current challenging economic environment. United recently exceeded $2 Billion in funded and managed relationships since its formation in 1997. Starting with a single Florida based client, United Capital Funding now serves clients in 29 states, and is based in Tampa Bay, Florida. United also has a regional offices in Nashville, Tennessee and Charlotte, North Carolina.
United Capital Funding is the fiscally savvy alternative for healthy companies in the staffing, government, manufacturing, service, distribution, technology and professional services sectors looking to profit from the flexibility and speed of partnering with a privately held, well capitalized source. A partnership with United Capital Funding Corp. results in a client gaining monetary as well as back room efficiencies to better compete in the current very competitive economic environment. Additional information on the specialized business financial services provided by United, including factoring, Accounts Receivable management, and working capital are available online at their website: http://www.ucfunding.com.