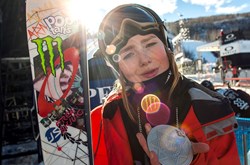 It's been a crazy, crazy one. I didn't expect to come out and get on the podium. I wanted to do it all for the experience this year and I couldn't be more stoked. It's been so fun. - Maggie Voisin
Aspen, CO (PRWEB) January 27, 2014
Fifteen year-old freeskiing phenom Maggie Voisin has earned the silver medal in Women's Ski Slopestyle at X Games Aspen 2014. Not only is it the first X Games medal for the Monster Energy rider from Whitefish, Montana, but Voisin is also the youngest skier to ever medal at the X Games.
"It's been a crazy, crazy one," said Voisin. "I didn't expect to come out and get on the podium. I wanted to do it all for the experience this year and I couldn't be more stoked. It's been so fun."
Voisin came out strong on her first run scoring an 88, which took her to the top spot and scored even higher with a 90 on her second run and another 90 on her third run, but was beat out by a score of 91.33 and bumped down to second place.
This year's slopestyle course proved to be challenging for competitors. After a series of technical ledges, walls, rails and boxes up top, skiers faced a series of huge jumps (stacked very close together) to end the course. Each rider got three runs, with the best single run determining the podium finishers.
Despite her young age, Voisin was pulling some of the biggest tricks among the field. Her standout trick was a switch left 1080 mute—she's the only female competitor pulling it in competition. Her best run also included 270 onto down rail, gap to the down on the down-flat-down box, up on to the cargo container sliding the down rail, right side 540 mute, switch 540 critical, and a 900 tail on the last jump. The 90.00 score proved enough for the silver.
"I learned the switch 900 last year and it's been one of my stock tricks, but I wanted to do the switch 1080 in Russia, so I thought it'd be good to warm it up here. I was really excited to be able to put it down in my run."
Voisin will be competing in slopestyle skiing at the Olympics and will be the youngest U.S. athlete to compete in Sochi.
"Going into this season it wasn't my main goal, but now that I'm done with X Games, I can just focus on the Olympics," said Voisin. "It'll be really fun and I'm excited to show the world what our sport is about."
For more on Voisin and the rest of the Monster Energy team check out monsterenergy.com. The site is loaded with exclusive photos, videos, and behind-the-scenes happenings direct from X Games Aspen 2014.
###
About Monster Beverage Corporation:
Based in Corona, California, Monster Beverage Corporation is the leading marketer and distributor of energy drinks and alternative beverages. Refusing to acknowledge the traditional, Monster Beverage Corporation supports the scene and sport. Whether motocross, off-road, NASCAR, BMX, surf, snowboard, ski, skateboard, or the rock and roll lifestyle, Monster is a brand that believes in authenticity and the core of what its sports, athletes and musicians represent. More than a drink, it's the way of life lived by athletes, sports, bands, believers and fans. See more about Monster Beverage Corporation including all of its drinks at http://www.monsterenergy.com.