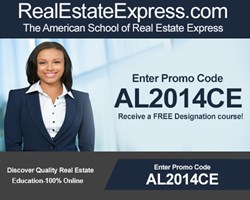 Enroll using promo code AL2014CE and receive a free professional designation course.
(PRWEB) January 27, 2014
RealEstateExpress.com now offers the fastest way to complete your Alabama continuing education requirements. Whether a student is a licensed salesperson or broker, Alabama real estate continuing education has never been easier! With 100% online courses compatible for computers, tablets and smartphones, students have access to their courses 24 hours, 7 days a week.
Every two years, every licensed agent must complete a total of fifteen clock hours of continuing education prescribed by the commission for renewal of an active license. To avoid penalty fees, agents are required to renew their license by August 31st of even number years, however have until September 30th to complete continuing education courses. The American School of Real Estate Express is now offering one of the best deals in the state; take both core and elective continuing education courses online for only $125.
Get a jumpstart on your 2014 Alabama continuing education today. Enroll using promo code AL2014CE and receive a free professional designation course. What does a professional designation course mean? The American School of Real Estate Express awards specialized designations to licensed real estate professionals who have dedicated themselves to mastery of a particular aspect or market segment of the real estate industry. Upon completion you will then have the rights to use your official designation abbreviations behind your name on all business cards, letterhead and professional correspondence.
About American School of Real Estate Express, LLC
The American School of Real Estate Express is one of the nation's oldest 100% online real estate license schools, established in 1996. Thanks to visionary decisions in a few early adopting states like Missouri and Georgia, a few jurisdictions began to write legislation to allow students to take their real estate license training courses online. Today, RealEstateExpress.com is approved to deliver 100% internet-based training and/or exam prep in almost all major states. Our courses have expanded to include; real estate pre licensing, post licensing, broker, and continuing education, as well as Exam Prep systems and appraisal courses.
"America's favorite online real estate school" has now successfully trained over 500,000 real estate students from all over the county via the internet. Real Estate Express is consistently ranked number one in first-time pass rates by boards and commissions, what that means to our students is better, accurate course content, delivered in the method the student prefers, for less money. Students who graduate from the American School of Real Estate Express can take advantage of specialist designations that are widely recognized as invaluable marketing tools fully embraced and preferred by consumers.