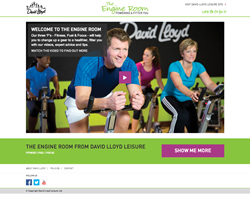 (PRWEB UK) 29 January 2014
David Lloyd Leisure has launched The Engine Room, a new online health and fitness resource packed with tips and videos to help people achieve their goals for the long run.
The Engine Room – http://www.dllengineroom.co.uk – has been designed to support anyone who wants to improve their health, whatever their level of fitness, every step of the way.
Based on the three Fs – Fitness, Fuel and Focus – The Engine Room cuts through the fads and quick-fix diets by offering a realistic, sustainable approach to achieving a healthier lifestyle for the long term.
Expert videos, hosted by David Lloyd Leisure's head of health and fitness, Rob Beale, and David Lloyd High Wycombe leading personal trainer, Kirsty Beavis, offer tips and straightforward advice around the simple principles of a healthy lifestyle: exercise, a nutritionally balanced diet and keeping motivated.
Essential topics covered include: Fitness - the basics, getting ready for exercise, cardio, strength training, the importance of flexibility and core exercises; Fuel – the basics, eating for exercise, forming good habits, choosing main meals, the role of breakfast and snacking; and Focus – the importance of rest, goals, mixing it up, how to stay on track with eating choices, keeping hydrated and how teaming up can improve results.
Rob says: "The Engine Room is a fantastic tool for anyone who is looking to improve their health and fitness. We all know how difficult it can be to stick with our resolutions to get or keep fit and one of the reasons people give up is because they don't set realistic goals.
"If you make small changes, it can make a big difference – and The Engine Room shows you exactly how by taking a whole-body approach with great tips and videos offering step-by-step guidance to achieve your goals for the long term."
For more, visit http://www.dllengineroom.co.uk.
For more information about David Lloyd Leisure, go to http://www.davidlloyd.co.uk.
Note to editors: For further information about this press release, contact the David Lloyd Leisure press office on 01707 289833/4 or email press(at)davidlloyd(dot)co.uk.
About David Lloyd Leisure Group
The David Lloyd Leisure Group operates 81 clubs in the UK and a further 10 clubs across Europe, comprising David Lloyd Clubs, Harbour Clubs and Next Generation, plus the new high street concept, David Lloyd Studio, in Islington, Putney and Winchester. It has over 440,000 members and employs 6,000 people. This includes an expert health and fitness team of over 1,800, while it contracts the services of more than 400 tennis professionals.
Across all clubs, David Lloyd Leisure has over 150 swimming pools (of which half are indoor) and offers over 10,000 exercise classes per week. Every week 20,000 children learn to swim at David Lloyd Leisure and 14,000 learn to play tennis. Its racquets facilities are unparalleled with 700 tennis courts as well as 180 badminton courts and 140 squash courts. Additional facilities include health and beauty spas, club lounges with free internet access, crèches, nurseries and specialist sports shops.