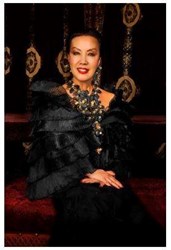 "Media has made some really innovative strides in recent years and this is an important recognition of how people are finding new ways to be engaged."
Los Angeles, CA (PRWEB) January 31, 2014
World acclaimed designer Sue Wong is among the leading nominees in the fashion category for the sixth annual Shorty Awards, which honor the people and organizations producing real-time short form content across various social media including Twitter, Facebook, Tumblr, YouTube, Instagram, and Vine, among others.
"I'm thrilled and honored to be among these year's nominees," says Sue. "Media has made some really innovative strides in recent years and this is an important recognition of how people are finding new ways to be engaged."
For 2014, Sue joins stellar style icons such as Justin Timberlake, Selena Gomez and others who are creating significant and bold contributions to the social media landscape in their individual fields. Sue, whose iconic fashions are among the highlights of red carpet events, is a strong social media presence with the Twitter handle @SueWongFashion and on her Facebook pages.
The Shorty Awards require fans and followers to tweet their nominations along with a brief reason for their choice on the official website here. These are counted as votes for the nominees. Seven finalists are tallied and the winners will be revealed at the awards ceremony on April 7th, 2014at TheTimesCenter at the New York Times building in New York City.
ABOUT SUE WONG
For over two decades Sue Wong has been astonishing fashion aficionados with collection after collection of ravishing dresses that prove both timeless and timely. Sue has dressed numerous major celebrities who have become devoted fans. Distinguished by the impeccable quality of traditional couture dress making, her designs are suffused with Old Hollywood glamour, steeped in romance and mystery while being utterly modern and accessible to women everywhere. Sue continues to forge new ground in defining fashion that transcends generations and boundaries even as she creates masterpieces of passion and desire expressed through inimitable style. Sue Wong is available from $350 to $900 nationwide at specialty boutiques, major department stores including Neiman Marcus, Saks Fifth Avenue, Nordstrom, Bloomingdales, Lord & Taylor, Macy's and internationally in over 27 countries.
Sue Wong