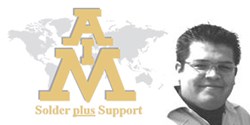 Cranston, RI (PRWEB) January 27, 2014
AIM Solder, a global leader in the manufacture of solder assembly materials for the electronics industry, announces the appointment of Andrés Rojas to the position of Technical Support Engineer. Based out of Monterrey, Mexico, Andrés will assist in finding technical solutions for AIM customers within the Northeastern regions of Mexico.
Andrés Rojas has vast technical experience having worked in the electronics industry in roles ranging from Project Engineer to Advanced Manufacturing Engineer. Rojas possesses key skills in areas such as selective and wave solder processes and lead-free operations, and holds certifications in Auditor ISO-TS-16946 and IPC-A610 among many other completed certifications and courses. His proven expertise in production and quality controls, process engineering, product transfers and lean manufacturing deployment will make Rojas a valuable addition to AIM's growing global technical support team.
Headquartered in Montreal, Canada, AIM Solder is a leading global manufacturer of assembly materials for the electronics industry with manufacturing, distribution and support facilities located throughout the world. AIM produces advanced solder products such as solder paste, liquid flux, cored wire, bar solder, epoxies, lead-free and halogen-free solder products, preforms, and specialty alloys such as indium and gold for a broad range of industries. A recipient of many prestigious SMT industry awards, AIM is strongly committed to innovative research and development of product and process improvement as well as providing customers with superior technical support, service and training. For more information about AIM, visit http://www.aimsolder.com.
Upcoming Events:
March 4, 2014 – SMTA Dallas Expo & Tech Forum – Dallas, TX USA
March 6, 2014 – SMTA Houston Expo & Tech Forum – Houston, TX USA
March 23-27, 2014 – IPC APEX, Booth No. 1217 – Las Vegas, NV
April 23-25, 2014 – NEPCON China / SMTA China East Conference 2013 – Shanghai China
May 6-8, 2014 - SMT Hybrid Packaging 2014 – Nuremburg, Germany