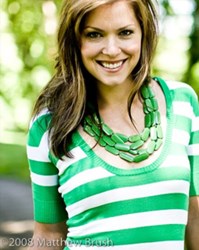 "One's dignity may be assaulted, vandalized and cruelly mocked, but it can never be taken away unless it is surrendered." ― Michael J. Fox
Los Angeles, CA (PRWEB) January 28, 2014
It is an unfortunate fact that in the world we live in, more people have gone through abuse of different types than we would assume. There are millions of people suffering daily and some which have come out of such trying circumstances scathed, but brave. CEO of ShopAddiKt, Bethany Londyn has decided to start a noble initiative called Shift the Paradym which is dedicated to empowering people and helping them to heal and shift out of their situation. She is currently working on a book collection which will have victim to "greatness" stories:
1) STD's
2) Cancer
3) Abuse
4) Rape
5) Divorce
6) Assault
People from all over the world who have gone through any of the following are invited to visit the website, LondynHeights.com and submit their stories for contributing to the book collection. The stories have to be 1000 words or less and if the contributors are not comfortable about revealing their identity, then they can also submit anonymously.
People who suffer such atrocities generally do not like to or are not made comfortable enough by society to talk about their situation. These people are in desperate need for an outlet to voice themselves, even if anonymously and Shift the Paradym is the apt platform for them to relate their stories to others who may have suffered something similar. The soon to release book collection will allow them to have a voice and be heard. This will serve as a healing and therapeutic process for people as it feels comforting to simply share. Besides helping themselves, the contributors will also be helping others who have gone through similar experience become empowered.
Although it is a much awaited book collection, getting people who have gone through these harsh realities of life to open up and share has proven to be quite a task, however once people share, it has been a transformational release. Since sharing is an extremely cathartic and feel-good exercise, she encourages such people to come forward and fearlessly tell their story.
Londyn's company, ShopAddiKt.com is a fashion site where you can set prices and alerts on your favorite fashion desires so that one never miss another sale again! Londyn Heights was also set up as a consulting and holding company to launch and assist with the beginning and end of startup companies. Londyn believes in entrepreneurs and intendes to empower them to ignite their companies with success.