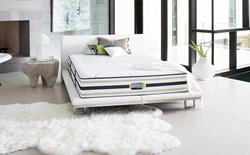 More than a better night's sleep – it's you, fully charged.
Philadelphia, PA (PRWEB) January 28, 2014
Beautyrest's new Recharge Hybrid line will be available at the Mattress Factory in early 2014. The Beautyrest Recharge Hybrid improves upon existing Recharge® technology to ensure a fully customized, refreshing night's sleep. Beautyrest claims that Recharge products offer "more than a better night's sleep – it's you, fully charged."
The Recharge Hybrid mattress features hundreds of individually pocketed coils that provide custom back support. The coils adjust to a sleeper's position independently to guarantee comfort throughout the night.
The Recharge Hybrid combines superior support with advanced AirCool® memory foam designed to dissipate heat. AirCool memory foam helps relieve pressure and promotes a cooler, more comfortable sleeping environment.
The Recharge Hybrid also incorporates micro coils into mattress layers to enhance the effectiveness of its pocketed coils and memory foam. Beautyrest accounts for common mattress issues that prevent restful sleep and provides an innovative solution in the new Recharge Hybrid mattress.
For further information on the Beautyrest Recharge Hybrid line, contact Chris Conway or visit themattressfactoryinc.com.
About The Mattress Factory:
The Mattress Factory is a leading mattress retailer with over 60 years of leadership in the industry. This family-owned and operated business carries over 50 luxury mattress models at competitive prices.