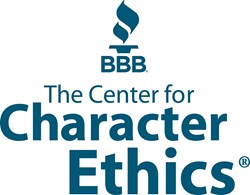 Columbus, Ohio (PRWEB) January 29, 2014
BBB announced today that Chip Weiant, director of BBB's Center for Character Ethics, has been named one of the top 100 TRUST Thought Leaders Nationally by Trust Across America℠. This honor, given to 100 global experts, comes after months of work and review of hundreds of applications by a team of independent judges.
Trust Across America-Trust Around the World (TAA-TWA), global leaders in organizational trust, has selected 2014's Top 100 Thought Leaders in Trustworthy Business. These experts can collectively transform the way organizations do business.
According to Barbara Kimmel, TAA– TWA Executive Director, "The honorees are inspiring organizations to look more closely at their higher purpose...to create greater value for, and trust from, all of their stakeholders. They understand that trust is an asset that can leverage real business gains. We congratulate all of our honorees whose work is shining a spotlight on the importance of trust and providing a roadmap for others to follow."
This year's recipients hail from around the globe and include leaders from the public and private sectors as well as authors, consultants, researchers and academics. Each honoree has made an extensive and positive contribution to building trust in organizations and many have joined Trust Across America's Alliance of Trustworthy Business Experts (ATBE), a vetted program of global experts who are collaboratively combatting the world's trust crisis.
Weiant helped develop and now directs Better Business Bureau's Center for Character Ethics (CCE) which provides assessment, training and recognition in leadership character and organizational ethics. The CCE exists to help BBB's across the country build local BBB Center for Character Ethics to fortify BBB Accredited Businesses (and help BBB's reach out to all businesses and non-profit leaders). The Center for Character Ethics relays a message of taking personal responsibility to intentionally implement the six principles of the BBB's EthicalEnterprising Framework℠ which, when practiced, leads to award-winning trust among employees, consumers and communities.
Media Contact: Joan Coughlin 614-754-4561 jcoughlin(at)columbus-ohbbb(dot)org
About BBB Center for Character Ethics:
The BBB's Center for Character Ethics Is a business-supported, free-enterprise
advancing non-profit organization focused on serving business managers & classroom educators with leadership character and organizational ethics strengthening resources. Our mission is to provide character ethics assessment, training and recognition to for-profit and non-profit leaders and to provide K-16 educator-focused character strengthening programs. As a result, we intend to help both producers and consumers flourish.
For more information, visit http://www.centralohio.bbb.org.