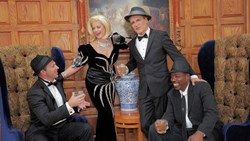 Miami, FL (PRWEB) January 29, 2014
The Rat Pack is back in Miami Beach! The Miami Rat Pack Show is now every Friday and Saturday night at 9pm at the new Miami Blues Restaurant inside the Castle Beach Club Hotel at 5445 Collins Ave. Miami Beach. Come join Frank, Dean, Sammy and Marilyn Monroe for a nightcap and enjoy Miami's best dinner show in a quaint, romantic ocean view setting. Relive the magic that the original Rat Pack brought with all the Sinatra, Martin, Sammy and Marilyn favorites being performed by the best tribute artists in the Southeast and backed up by the Miami Blues Big Band featuring several artists from the Havana Symphony Orchestra.
Frank Sinatra is played by Jack Crooner, who found his inner voice on a vacation trip in 1975 when his father took him to a sold out theater in Caesar's Palace to see the one and only Frank Sinatra, right then and there he met the man he wanted to become. Since then he has pursued his love of music and has played with some of the best in the country. He is honored to bring to life the Miami Rat Pack. Jack is the Director/Producer of the show.
Dean Martin is played by Jeff Grainger, originally from Michigan, has been performing at various venues across Miami, Fort Lauderdale, and South Florida over the past decade, sparking romance and delight to his audiences. From smaller venues, such as restaurants or special parties to larger corporate events, weddings, and family gatherings, Jeff brings his unique crooning of all the classics. Jeff is the Co-Producer of the show.
Marilyn Monroe is played by Elexis Ansley, a singer/songwriter with powerful vocals and a sophisticated style. Originally from Baltimore, Maryland, Elexis' extensive knowledge in music make her an exceptional singer with originality and class. In addition to singing blues, jazz, and R&B, Elexis is also classically trained and studied flute at Florida State University and Florida International University. She credits most of her inspiration to artists such as Amy Winehouse, Etta James, Aretha Franklin, Christina Aguilera, and of course the iconic Marilyn Monroe.
Sammy Davis Jr. is played by AshBa, who began his musical career in the mid 70's, touring in the Caribbean, North America, Europe, and the Greater and Lesser Antilles. Throughout the years, he has not only engineered and produced his own projects, but those of various other artists as well.
Experience a night you will never forget with great music, comedy, food and atmosphere at this new dinner show. For more information go to ratpackmiami.com or call 305-397-8628.