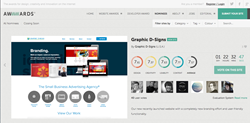 (PRWEB) January 31, 2014
Graphic D-Signs, Inc., not even a month after launching its site rebrand, has been nominated for two website design awards. The CSS Design Awards and Awwwards have both nominated the agency for excellence in website design.
The CSS Design Awards are an online organization that judges submissions from web professionals in over 200 countries with the goal of promoting the very best in web development and design. After nearly a year's worth of development and deign reiterations, the team at Graphic D-Signs was able to create a site fitting to receive a nomination from this international critic.
Similarly, Awwwards seeks to recognize the best of the web's designers and developers. Sites are judged on the basis of design, creativity, usability, and content. Those wishing to cast their votes can submit their selection via the organization's website.
Graphic D-Signs, Inc., known predominantly for their superior logo and truck wrap designs, is also a preeminent creator of superior web design and development. Based in New Jersey, the agency is the industry-leading small business marketing firm, a full-service agency specializing in logo, website, print and digital design.