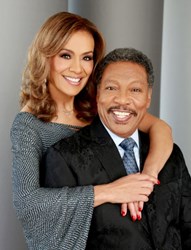 Napa, CA (PRWEB) January 27, 2014
Marilyn McCoo and Billy Davis, Jr., formerly of The 5th Dimension, have enjoyed tremendous success through the years as recording artists, performers and authors. They have received 7 Grammy Awards, earned 15 gold and 3 platinum records and enjoyed starring roles on television and stage. They have performed to sold-out concerts around the world. However it's their love and devotion to each other for 45 years and their desire to share that love with the world that inspires them and keeps their hearts full and their love everlasting.
The driving force behind their coming together and numerous successes has been the undying love affair and commitment to each other that they share. The husband and wife team will celebrate their 45th anniversary of marriage this year! The Hollywood couple wrote a book 10 years ago which shares their secrets of staying happy and committed to each other in life and as celebrities. The book is entitled Up, Up & Away…How We Found Love, Faith And Marriage In The Entertainment World. In it, they talk about how they met, their successful musical careers and their major struggles behind closed doors. Their book offers practical marriage advice and spiritual encouragement along the way. With the release of their book, they have also begun speaking at marriage seminars and sharing their wealth of knowledge and experiences.
To acknowledge their 40th wedding anniversary, McCoo and Davis' most recent release is a romantic interactive CD entitled The Many Faces Of Love. This new collection is a series of love songs and hits from their musical era of the 60s & 70's, which explore the various aspects of relationships. The songs were written by the top songwriters of the period: Bacharach & David, Michel LeGrand and Marilyn & Alan Bergman, Ashford & Simpson and Holland, Dozier & Holland, to name a few. The CD's unique interactive features include videos, interviews, rare photos and more that are sure to bring out the romance in us all.
McCoo and Davis continue to bring their magic and dynamic love affair to the stage while maintaining a demanding schedule performing domestically and internationally at performing arts centers, casinos and other venues in recognition of their more than 45 years in the entertainment business.
Marilyn McCoo and Billy Davis Jr. first met as lead vocalists of one of the top singing groups of the late 60's and early 70's, known as The 5th Dimension. McCoo and Davis recorded such classics as "Up, Up & Away," "Aquarius/Let The Sunshine In," "Wedding Bell Blues," "One Less Bell To Answer," "Stoned Soul Picnic" and other chart toppers. After a decade with The 5th Dimension, they decided to leave the group and establish themselves as a duo. They had immediate success with the single, "You Don't Have To Be A Star (To Be In My Show)." It was a #1 hit and earned them a Grammy Award for Best R&B Vocal Performance By a Duo or Group.
In the early 90's, McCoo and Davis joined the original members of The 5th Dimension for a special reunion tour, and in August, 1991, the group was honored with a star on Hollywood's Walk of Fame. Today, and in addition to their busy tour schedule and high profile appearances, the couple are involved in numerous charities and Davis is very excited about what they're doing: "This is the most fulfilling time in our lives. Not only do we share our talents with our audiences through our music; we're also providing them with wisdom that we've acquired through the years."
Marilyn McCoo and Billy Davis Jr. will be performing their hits at the Uptown Theatre in Napa on Saturday March 22nd. Doors open at 7pm and show starts at 8pm. Tickets are $55 and $65 for ages 12 and over and children 16 and under must be accompanied by adult.
The Uptown Theatre Napa is downtown's ultimate destination for live concerts. Nestled in the famed West End district, this stunningly restored art deco masterpiece showcases only the finest acts, featuring music, comedy and more. An historic landmark, the Uptown offers a phenomenal, intimate live show experience, with excellent site lines and world class sound and lighting. As concert venues go, this is the place to be. Every seat is a great seat so buy concert tickets now!