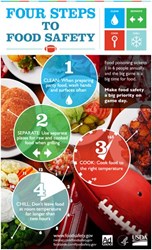 'I like to live on the wild side, but not when it comes to food safety. With just a few simple steps and additional prep, you can have an amazing Super Bowl feast and not have to worry about foodborne illness ruining the party,' says Chef French.
New York (PRWEB) January 29, 2014
Parties and food are an integral part of Super Bowl Sunday, and for the millions of Americans watching the game and celebrating with their families and friends, foodborne illness, such as norovirus, is not an invited guest. As an extension of their national Food Safe Families public service advertising (PSA) campaign, the Ad Council, the U.S. Department of Agriculture (USDA), the U.S. Food and Drug Administration (FDA) and the Centers for Disease Control and Prevention (CDC) are partnering with Food Network's World Extreme Chef winner, Terry French, to help promote food safe practices in every kitchen.
Foodborne illness affects about 1 in 6 Americans (48 million people) each year, resulting in approximately 128,000 hospitalizations and an estimated 3,000 deaths. Chefs like French know to take extra precautions when prepping for a crowd. "I like to live on the wild side, but not when it comes to food safety. With just a few simple steps and additional prep, you can have an amazing Super Bowl feast and not have to worry about foodborne illness ruining the party," says French.
To keep your Super Bowl party guests safe and satisfied, follow these simple tips also found on FoodSafety.gov:

Thoroughly CLEAN and wash kitchen surfaces, utensils and hands before preparing or serving food and wash all produce including produce you plan to peel, such as avocados.
SEPARATE raw meats and poultry from ready-to-eat foods like fruit and vegetables.
COOK meat and poultry to the right temperature by using a food thermometer. Chicken should be cooked to 165°F and ground beef to 160°F.
CHILL cooked and prepared foods if you do not plan to consume them within two hours. Halftime is a good rule of thumb for replacing or tossing buffet items.
For more tips and to answer your questions about preventing food poisoning please visit FoodSafety.gov and "Ask Karen," an online database of answers to specific questions related to preventing foodborne illnesses available 24/7 at askkaren.gov. Food experts are available through USDA's Meat and Poultry hotline on weekdays (between 10 a.m. and 4 p.m. Eastern time) by live chat or by phone (1-888-674-6854).
XXX
About Chef Terry French:
Chef French's unique experiences, rock 'n roll approach to food and vibrant personality made him the perfect candidate to promote food safe practices for the USDA and the Ad Council. By the final episode of the Food Network's World Extreme Chef, French wowed judges with the perfect bite to receive the title of World Extreme Chef. French graduated from the Scottsdale Culinary Institute and had apprenticeships in continental, European and Asian cuisine following his completion of two world tours with the U.S. Navy. His catering company, Culinary Dreams, creates unique dining experiences and he gives back with his nonprofit organization, Chefs for Life.
About the USDA:
The USDA's Food Safety and Inspection Service (http://www.fsis.usda.gov) is the public health regulatory agency within USDA responsible for ensuring that meat, poultry and processed egg products are safe, wholesome and accurately labeled. To accomplish this, FSIS employs approximately 7,600 inspection personnel who enforce the Federal Meat Inspection Act, the Poultry Products Inspection Act, and the Egg Products Inspection Act. The agency also provides outreach programs like the USDA Meat and Poultry hotline and Ask Karen, the virtual food safety representative, to educate consumers about the importance of safe food handling and how to reduce the risks associated with foodborne illness.
About the FDA:
The FDA, an agency within the U.S. Department of Health and Human Services, protects the public health by assuring the safety, effectiveness and security of human and veterinary drugs, vaccines and other biological products for human use, and medical devices. The agency also is responsible for the safety and security of our nation's food supply, cosmetics, dietary supplements, products that give off electronic radiation, and for regulating tobacco products.
About the CDC:
The CDC works 24/7 saving lives, protecting people from health threats, and saving money to have a more secure nation. Whether these threats are chronic or acute, man-made or natural, human error or deliberate attack, global or domestic, CDC is the U.S. health protection agency.
About the Ad Council:
The Ad Council is a private, nonprofit organization with a rich history of marshaling volunteer talent from the advertising and media industries to deliver critical messages to the American public. Having produced literally thousands of public service advertising campaigns addressing the most pressing social issues of the day, the Ad Council has affected, and continues to affect, tremendous positive change by raising awareness, inspiring action and saving lives. To learn more about the Ad Council and its campaigns, visit http://www.adcouncil.org, like us on Facebook, follow us on Twitter or view our PSAs on YouTube.