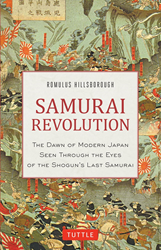 "Hillsborough deserves high praise for successfully combining high drama... with meticulous scholarship." - The Daily Yomiuri
North Clarendon, VT (PRWEB) March 25, 2014
The first comprehensive history and analysis of an epic and fascinating period of Japanese history, Samurai Revolution tells the story of Japan's transformation from a backward country of feudal lords and samurai under the control of the shogun into a modern industrialized nation under the unifying rule of the Emperor. Japan's modern revolution spanned the third-quarter of the nineteenth century; knowledge of this history is essential to understand how and why Japan evolved into the nation it is today.
Samurai Revolution is the result of over twenty-five years of research. The author quotes extensively from the journals, memoirs, histories, and letters of Katsu Kaishu, a prolific writer, founder of Japan's modern navy, and later supreme commander of the shogun's military, who earned the epithet "the shogun's last samurai." These original translations give an insider's view, which along with the grand historical narrative provide readers with an unparalleled insight into this most momentous period in Japanese history.
Samurai Revolution is available for pre-order on Amazon.com, BN.com and directly from the publisher at TuttlePublishing.com. It can also be found in bookstores everywhere.
About the Author
Romulus Hillsborough lived in Tokyo for sixteen years, immersing himself in the study of Japanese language, history and culture. Hillsborough's books include Ryoma: Life of a Renaissance Samurai and Shinsengumi: The Shogun's Last Samurai Corps.
About Tuttle Publishing
Established in 1948 by Charles Egbert Tuttle Jr. in Rutland, Vermont and Tokyo, Japan, Tuttle Publishing is the premier publisher of English language books on Asian culture. Today, Tuttle maintains an active offering of books on a wide range of topics, including Asian culture, Asian literature, Asian architecture, Eastern spirituality, gardening, cooking, martial arts, crafts, travel, health and wellness, and fine art for a worldwide audience.