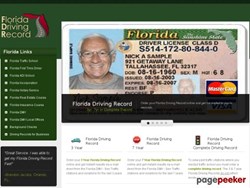 "People deserve to know the exact information that is on their Florida driving record," says Todd Mayers, Marketing Manager
(PRWEB) January 29, 2014
Going to the Florida DMV is one of the most dreaded experiences that one must endure – especially if an individual is there merely to obtain their Florida driving record. FloridaDrivingRecord.net now makes it easy to receive your Florida Driving Record
FloridaDrivingRecord.net offers a 3 year, 7 year and complete driving history record. It is an easy process and usually takes less than a day to receive the results without leaving home.
These driving record reports can be used to correct any misreported information on a Florida driving record. An individual can monitor things like point assessment, traffic school completion or whether a speeding violation/traffic offense has been misreported.
About FloridaDrivingRecord.net
Since 2005, FloridaDrivingRecord.net has been linking drivers with complete and concise motor vehicle records. They are dedicated to customer satisfaction and accuracy.