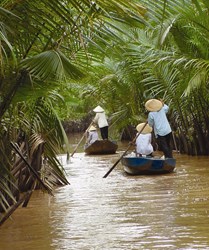 United States (PRWEB) January 28, 2014
The Women's Travel Group guarantees room shares to avoid the single supplement on its luxury tours for women.
This award winning tour company for women organizes unusual tours to exotic places. As an example, WTG will visit Vietnam and Cambodia not on a cruise. The places of greatest interest are on land, and an in-depth view of these fascinating areas is best experienced this way. Included in the price are fine luxury hotels, a night on a luxury junk in Halong Bay, and famous restaurants. In all WTG tours, we include the glorious and gritty history of the area often presented by a local speaker.
Shopping times are saved for fine stores recommended by friends, not tourist traps. There are pockets of leisure time for a break or to better enjoy the atmosphere. There are opportunities to experience oriental spas both at hotels and on our luxury overnight junk. Some cooking and much tasting finishes our experiences.
Mysteries and Marvels of Indochina
March 23-April 6 2014
Places visited Hanoi, Halong Bay, Hoi An, Danang, Saigon,Siem Reap with an optional stopover in Seoul, Korea.
Price: $3135 share guarantee and $4285 single plus air. Anyone who requests a share will receive one or will have a single at no additional cost.
Tours are operated by SITA World Tours in partnership with The Women's Travel Group and may be booked by travel agents.