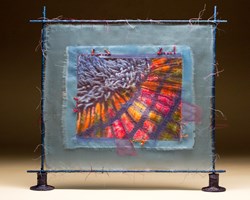 ...wonderful experience of contemporary fiber art...
Aliso Viejo, CA (PRWEB) January 29, 2014
Sixty-six original works by 22 California Fibers artists will be on display through May 8, 2014 at Soka University's Founders Hall Art Gallery from M-F, 9 am–5 pm. Admission is free.
This comprehensive exhibition was juried by Kevin Wallace, Director of the Beatrice Wood Center for the Arts, who noted: "I couldn't have dreamt up a more wonderful experience of contemporary fiber art than I was presented with as a juror."
Soka University is located at 1 University Drive, Aliso Viejo at the intersection of Wood Canyon Drive and University. For a map and driving directions see http://www.soka.edu/directions. For more information, see http://www.soka.edu, email info(at)soka(dot)edu or call (949) 480-4081.
Soka University is a private, four-year liberal arts college and graduate school in Aliso Viejo, CA, ranked in the top 50 National Liberal Arts Colleges by US News and World Report's Best Colleges 2014. SUA offers a 9:1 student/faculty ratio and study abroad for every undergraduate student. Founded upon the Buddhist principles of peace, human rights and the sanctity of life, SUA is open to top students of all nationalities and beliefs. About 60% of SUA's students come from the US and 40% have come from more than 40 other countries. Admitted BA students whose annual family income is $60,000 or less may be eligible for Soka Opportunity Scholarships which cover full tuition. Additional scholarship opportunities are available for higher income levels.