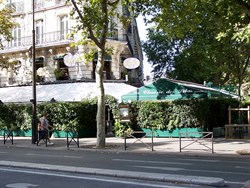 "There is still something thrilling about sipping an espresso with journal in hand at one of Hemingway's favorite cafés."
(PRWEB) January 30, 2014
The Parisian cafes in Ernest Hemingway's "A Moveable Feast" become characters in his story, each offering a distinctive personality. The annual Left Bank Writers Retreat, scheduled for June 15 – 20, 2014, in Paris, France, visits many of the famous author's favorite cafes as part of its combined program of writing workshop and literary sightseeing. "Paris is so rich in literary history," says Left Bank Writers Retreat founder and host Darla Worden, "and the writers in our group find that firsthand visits, including to the cafes frequented by Hemingway, inform and inspire their writing." To help writers get the most out of a Paris visit, Worden has released a Left Bank Writers Retreat tip sheet, "Six Hemingway's Paris Cafes that Every Writer Should Visit."
"In Hemingway's day, cafes were the social hub for the Left Bank Writers – providing an inspirational mix of food and wine, companionship and all-day office space," explains Worden. In the 1920s, editors of little magazines held court at cafes looking for manuscripts, and writers were free to work for hours at a café table – fortified by the occasional eau de vie or Alsatian beer. Today, there is still something thrilling about sipping an espresso with journal in hand at one of Hemingway's favorite cafés – still in business nearly 100 years later:
La Closerie des Lilas, 171 Boulevard du Montparnasse. This "lilac arbor" café is a Left Bank Writers Retreat favorite. Hemingway, memorialized with a plaque at the bar, once lived just down the block and made the cafe his unofficial office, writing in a red leather booth and drinking with fellow writers F. Scott Fitzgerald and Ford Madox Ford. "The café's connection to Paris is seductive to a writer," says Worden, who adds, "I've brought writers here for six years and the service has been perfect, the food delicious, and the atmosphere without equal."
Les Deux Magots, 6 place Saint-Germain-des-Pres. One of the oldest cafés in Paris, originally built in 1812 as a novelty silk shop, Les Deux Magots still boasts the two Chinese mandarin statues that inspired its name. Hemingway met with other writers including Janet Flanners here in the 1920s. The café's terrace overlooks the church Saint-Germain des Pres and provides fabulous people watching.
Brasserie Lipp, 151 Boulevard Saint-Germain. As recorded in "A Moveable Feast," Hemingway sopped up bread with olive oil, ate potato salad and drank large beers at the German "Lipps," a Left Bank institution. Its original 1926 art deco interior contributes to the enduring charisma of the cafe, where Hemingway wrote his pre-war dispatches. Later regulars included Chagall and Camus, and the Lipp remains a gathering place for artists, intellectuals and politicians.
Café de Flore, 172 Boulevard Saint-Germain. A neighbor and rival to Les Deux Magots, Café de Flore became a stomping ground for Hemingway, Sartre, Simone de Beauvoir, and Picasso. Notable for its classic Art Deco interior, broad menu of Euro-comfort foods and sunny sidewalk terrace, in 1994 Cafe de Flore began handing out an annual literary prize – the Prix de Flore – to promising young authors. Besides a cash prize, the winner gets to drink a glass of Pouilly-Fume wine at the cafe every day for a year.
Le Select, 99 Boulevard du Montparnasse. As well as rating a mention in "A Moveable Feast" as a Hemingway writing hangout, Le Select-which quickly gained popularity due to its open-all-night hours – is visited by the characters of Hemingway's novel "The Sun Also Rises." American writer Henry Miller and anarchist Emma Goldman also were regulars. The café, with its elegant Franco-colonial décor, remains a gathering place for the art world.
Le Dome, 108 Boulevard du Montparnasse. The first major Montparnasse café to attract ex-pats and intellectuals, Le Dome spawned the term "Domiers" to describe the international group of visual and literary artists who congregated there, including Man Ray, Henry Miller, Khalil Gibran, Picasso, and of course Hemingway. Today Le Dome is better known for its well-reviewed seafood cuisine, although photographs of famous artist patrons still grace its walls.
COMPANY INFORMATION:
Now in its sixth year, the Left Bank Writers Retreat, a small-group salon-style writing workshop offered every summer on the historic Île Saint-Louis in the heart of Paris, is accepting applications for the 2014 retreat, June 15 – 20, 2014. The $1,999 price includes morning writing sessions, coaching and one-on-one time with the instructor for a maximum of eight writers, as well as lunch each day, admission to museums and area sights, an excursion to Montmartre, a picnic on the banks of the Seine and a literary tour visiting many of the sites featured in the Woody Allen movie "Midnight in Paris." Writers arrange their own lodging and transportation to Paris. For additional information, visit http://www.leftbankwriters.com.
MEDIA CONTACT:
Darla Worden, WordenGroup Public Relations, darla(at)wordenpr(dot)com, 303.777.7667