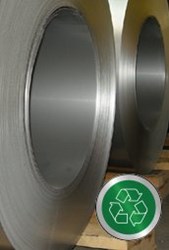 For the environment, it is simply the right thing to do and a continuation of our ongoing commitment to sustainability.
Franklin Park, Illinois (PRWEB) January 29, 2014
Just Sinks, the residential sinks division of Just Manufacturing Company, has announced that newly melted stainless steel used in the production of the company's stainless steel sinks and faucets has reached a 90% recycled materials level in an ongoing effort with their steel mill suppliers.
"We are proud to be part of the industry that is leading the way in recycling and green manufacturing awareness," said Larry Franch, Director of Manufacturing, "Like many, the recycled properties of steel are simply the beginning of our on-going commitment to the environment and our culture of being a green manufacturer."
Just Manufacturing has long-standing commitment to green operational processes with an environmentally conscious production facility that demonstrates environmental awareness and improvement. The in-plant production, as well as the inbound raw materials and packaging, are factored into the company's green planning and recycling efforts.
For instance, to further reduce the company's carbon footprint, inbound raw materials are shipped from mills geographically located in proximity to the manufacturing facility.
In-plant production processes include self-contained hydraulic presses that are cooled by recirculated water. This process uses less than one-third of the energy used by traditional cooling systems, providing substantial energy, water and annual greenhouse gas savings.
Green efforts also impact by-products of production including scrap stainless steel, metal sludge (SWARF) and oils:

The metal shavings produced during polishing are separated and reclaimed by processors. Once recycled, the stainless steel contained within this by-product is reclaimed for further treatment.
The scrap stainless steel is collected and returned to the recycling process to once again be melted down to become new steel. This ensures that it is diverted from landfills and recaptured for use in new high- quality stainless steel.
The oils that are used for polishing are recycled internally and reused.
Just Sinks green commitment and recycling efforts extend past the production floor into the shipping and administrative areas:
Shipping: Corrugation materials for finished products are comprised of 35% recycled materials.
Administrative: Forms, catalogs and price books are produced from recycled paper products.
Just Sinks lists many additional examples of the company's green culture on their website.
"We are thrilled to continue manufacturing our quality products while increasing the amount of recycled and salvaged material they contain," said Franch. "For the environment, it is simply the right thing to do and a continuation of our ongoing commitment to sustainability. We know the importance of recycled content to architects and designers who are working diligently to please their environmentally-concerned clients and seeking to achieve LEED certifications."
Steel is North America's most recycled material. The Steel Recycling Institute (SRI) reports more steel is recycled annually than paper, plastic, aluminum, and glass combined. This is because steel scrap is an essential raw material in making new steel. In fact, stainless, along with other grades of steel, is able to be recycled without any degradation to its structural properties. In 2012, The North American steel industry marked a milestone with more than one billion tons of steel having been recycled since 1988, according to SRI.
ABOUT JUST SINKS: Just Sinks is the residential sinks division of Just Manufacturing Company, an industry-leading stainless steel sink manufacturer. The company has long been known as the U.S. market leader in the design and production of commercial stainless steel sinks and related products.