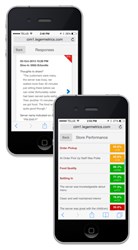 Mobile reporting puts real-time Voice of the Customer insights in the palm of your hand.
(PRWEB) January 29, 2014
Leger Metrics, a leading Customer Experience Management (CEM) and Voice of the Customer (VoC) solutions provider, announced the launch of its new mobile reporting platform. Leger Metrics' industry-leading, cloud-based Customer Insight Manager (CIM) reporting platform is now available for iPhone/iPad, Android, BlackBerry or any web-enabled tablet device. CIM Mobile provides users who spend most of their time in the field, on the road or on the store floor with the tools they need to stay connected to their customers and respond quickly to any customer service issues that arise.
CIM Mobile provides the same, easy to use user experience as its desktop counterpart and offers all of the role-based reporting features which ensure that insights and actions are tailored to each individual user. Like the desktop version of the CIM, mobile users can:

view their customer feedback responses in real-time including individual customer answers and comments;
consult their dashboards;
view their surveys results and scorecard reports;
view alerts and manage their customer recovery cases for quicker issue resolution turn-around; and
easily filter results by department, store, district or region.
For More Information On Leger Metric Reporting Platform:
http://legermetrics.com/reporting-analytics
About Leger Metrics
Leger Metrics Inc. is a leading North American supplier of Voice of the Customer (VoC) and Customer Experience Management (CEM) solutions, Leger Metrics provides cloud-based customer feedback management, real-time reporting, and customer recovery solutions. With clients in multi-location retail, restaurant, automotive, financial services and healthcare, Leger Metrics solutions enable consumer brands to foster deeper engagement, and improve customer satisfaction and loyalty through continuous customer feedback and real-time actionable insights. Leger Metrics is a division of Leger, The Research Intelligence Group, the largest Canadian-owned market research firm with offices throughout Canada, in the United States and Zurich, Switzerland. For more information: http://www.legermetrics.com.