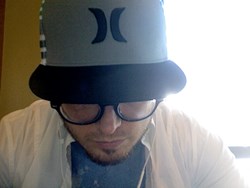 ...excited about working with a publishing house dedicated to transformation.
Dallas, Texas (PRWEB) January 29, 2014
Jock and Lola Publishing, the new indie press located on the 1000-acre Windmill Ranch Preserve in West Texas, has officially released its first title for 2014.
Mesus: Part One is an avant-garde novella written by the iconoclastic and reclusive author, Loud A. Smith. Mesus follows the story of a suicidal billionaire named Mat Clarke, who has his "finality plans" altered when he encounters a violent supernatural being who "persuades" him to stick around by giving him the ability to heal others. With these new powers, Mat cancels "the end" and begins doing things he never imagined were possible.
This serialized thriller, which is available on Amazon in print and in e-book formats, has already garnered interest from several groups in Hollywood who are in talks with Mr. Smith about turning the book into a movie.
Ben Donley, Creative Director of Jock and Lola Publishing, reports that his indie press, "is just getting started" with regards to finding, developing, and marketing authors who can communicate "ideas that transform."
His bold and entrepreneurial partner Marianne Randals agrees. "We did not begin this publishing house to simply add more forgettable books to the shelves of willing readers. We are out to offer 'off-the-edge' literature that reminds people the pen can still be very mighty."
More about Jock and Lola Publishing house can be found at http://www.jockandlola.com and you can follow Ben Donley's creative writing blog at http://www.bendonley.com. The company is admittedly at "an infrastructure-building stage," but is inviting authors to submit queries for its 2015 production slate.
Jock and Lola Publishing uses the amazing SEO powers of Loudsmith Media.