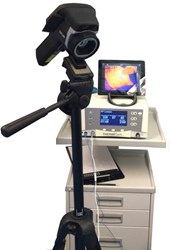 Paris, France (PRWEB) January 28, 2014
ThermiRF, the first aesthetic technology using the "science of heat" to receive FDA market clearance, will proudly be represented at this year's IMCAS Annual Meeting in Paris at the Palais des Congrés. "Science of heat" is the use of temperature as a clinical endpoint, allowing both plastic surgeons and aesthetic physicians to precisely heat soft tissue and nerves to yield a meaningful clinical outcome for their patients. ThermiRF will be located at booth E12 from Thursday, January 30th, to Sunday, Feburary 2nd.
Renowned doctor Brian M, Kinney M.D., Board Certified Plastic Surgeon, will be available at IMCAS to discuss the ThermiRF technology and how it is utilized in his practice.
Attendees will have the opportunity to learn about ThermiRF's dual monitoring of tissue temperature (internal and external) using advanced infrared imaging system. This type of monitoring allows physicians to administer a precise and safe treatment.
Additionally, ThermiRF will be discussed at the following educational symposium:
Sunday, February 2nd at 8.40am in Room 6
Session on "Percutaneous, Temperature Cotrolled RF – A new paradigm for Tissue Tightening – The Neck, Cheeks, Body, Fibroseptal Network and Beyond" with Dr. Brian Kinney
Since its pre-commercial introduction in the United States in 2012, general plastic and facial plastic surgeons, dermatologists, and cosmetic surgeons around the globe have used ThermiRF in a variety of clinical areas. ThermiRF applications target patients seeking an "in-between" solution for various aesthetic complaints. There is growing demand from baby boomers who are seeking advanced, anti-aging solutions, which fall "in-between" non-invasive treatments and major surgery.
For more information, please visit http://www.thermi.com.
About ThermiAesthetics
The ThermiAesthetics flagship product is the ThermiRF Temperature Controlled Radio Frequency Generator System and is FDA cleared for dermatological and general surgical procedures for electrocoagulation and hemostasis; and to create lesions in nervous tissue. ThermiRF is an advanced technology using finely controlled thermal energy. It is a multi-use platform, which promotes increased patient safety and clinical effectiveness, while providing versatile solutions for physicians serving the aesthetic market.
ThermiRF features a unique temperature control feature and uses proprietary hand pieces, which are designed for specific medical applications. These include a variety of disposal RF electrodes and cannulas and reusable non-invasive hand pieces.