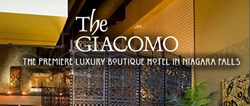 "Giacomo Games" on Friday, February 7th, 2013
Niagara Falls, New York (PRWEB) January 28, 2014
The historic Giacomo Hotel at 222 1st Street in Niagara Falls, NY will kick off the "Giacomo Games" on Friday, February 7th, 2013 at 7:30PM in the lounge of the Giacomo Hotel. Formerly The United Office Building, built in 1929, it has been restored but maintains its distinctive art deco exterior blended with a unique Mayan revival motif. The opening ceremony will feature a Russian themed torch lighting, flaming cocktails, drink specials and indoor games. Festivities, creative Olympic events and competitions, as well as drink and food specials will continue throughout the Games (February 7 - 22) until the Closing Ceremony on February 23rd.
Each featured night will begin at 7:30pm in the Giacomo Lounge with dress, drink and game themes while broadcasting the Olympics on all 3 large flat screen TVs. Guests that participate in-theme will have an opportunity to win various prizes throughout the scheduled events. A final "Closing Ceremony" will take place on February 23.
For more information about The Giacomo Hotel and for the full schedule of Lounge events visit: http://thegiacomo.com/.
About Ellicott Hospitality Company
Founded in 2013 as a branch of Ellicott Development Company, Ellicott Hospitality is a full-service hospitality management company offering expertise in hotel development, construction, operations and marketing. Ellicott Hospitality provides a range of enhanced services for partners and guests including leisure planning, corporate and executive meeting planning and services, relocation packages and airport services. The current hospitality portfolio includes everything from luxury boutique to extended-stay hotels. Ellicott Hospitality is consistently committed providing exceptional service to clients, guests, employees, and the community. Learn more at http://www.ellicotthospitality.com.