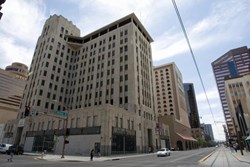 Phoenix, AZ (PRWEB) January 28, 2014
Paramount Lodging Advisors (PLA) is pleased to announce the successful sale of Grasshopper Development, LLC's interest in the Hotel Monroe/Valley National Bank Building redevelopment in Phoenix, AZ to CSM Lodging.
The 1931 iconic building, located at 15 E. Monroe Street in downtown Phoenix, is at the epicenter of a multi-billion dollar redevelopment area. The project's original developer was 50% complete with a conversion to a luxury boutique hotel called "Hotel Monroe" before losing the project to the lender. Grasshopper Development LLC's principals, Jay Wentz and David Iwashita, were successful in obtaining the bankruptcy court's approval to revive the project and continue with the redevelopment. Their expertise in the utilization of both historic and new market tax credits and experience with a similar hotel project in San Diego paved a favorable landscape for CSM Lodging to acquire their interest.
CSM Lodging plans to redevelop the historic building into a limited service hotel. PLA Managing Director Scott Griemsmann represented the seller, Grasshopper Development LLC.
Paramount Lodging Advisors (PLA) is a hotel brokerage and advisory firm specializing in the sales of hospitality assets, debt and equity placement, as well as value enhancement services across the United States. For more information about PLA, please visit http://www.paramountlodging.com/.