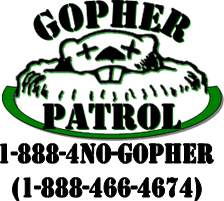 Gopher Patrol offers gopher control service in Los Angeles.
Los Angeles, CA (PRWEB) January 29, 2014
Gopher Patrol is now offering gopher control gassing methods in Los Angeles, Ca. Until recently, gassing for gophers was not available in Los Angeles. Recent changes in the law have allowed for the use of gas tablets again, with certain restrictions. Gopher control experts have had access to the gas tablets in the past, but a few years back restrictions made it all but impossible to treat in residential communities. Recent changes in the law have loosened those restrictions. Access to the gas tablets is still restricted and pest control companies do need to carry special permits and licenses to use the product. Gopher Patrol is a company that carries the special restricted material permit to use the gas tablets.
Gopher control experts for over 17 years, Gopher Patrol also has an extra special advantage when it comes to gopher removal, experience. Gopher Patrol has been serving Los Angeles for 17 years, making them the longest lasting and most reliable gopher control company in Southern California. "Just placing bait or gas tablets in the tunnels won't assure you are getting a good service," states Brandon Rodriguez, Service Supervisor for Gopher Patrol, "You really need to know how gophers work, what their habits are, etc." Even with the current changes to the law, you still want experts doing the job. Gopher Patrol has shown over the years that they really are the experts at gopher control.
Los Angeles with its proximity to hills and mountains, warm weather and landscaped communities is a breeding ground for gophers. "Every year, we get calls from customers who recently moved in from another state. They are shocked to see gopher activity year round", says Ethan Hernandez, General Manager of Gopher Patrol, "They are used to gophers hibernating in the winter, that just doesn't happen in So Cal". Some residential properties will still not be allowed to use the gas products, and that's why experience is the best method. If you have questions about gopher control methods we reccomend you call the experts at Gopher Patrol.
Gopher Patrol has been in business under the same ownership for 17 years. They have a fleet of trained and licensed technicians that are truly experts in thee gopher control business. They can be visited at http://www.gopherpatrol.com or by calling 1-888-466-4674. Gopher Patrol is a full service pest control company and they have a A rating on Angie's List and are current Super Service Award Winners in 2 categories this year, Animal Control and Pest Control/Extermination.