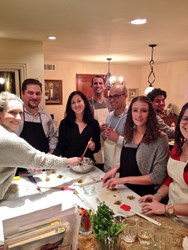 San Diego, CA (PRWEB) January 28, 2014
Lajollacooks4u is ringing in the New Year by hosting a dynamic and fantastic cooking series of seven classes for Congregation Beth El's young adult group, Chai.
The director of Chai at Beth El, Elana Kobernick, approached Chef Jodi at Lajollacooks4u with the request of programming a series of seven cooking classes beginning in January. The cooking class series features four international menus including Asian, Latin, Moroccan, and Californian cuisines, as well as three tapas menus presenting a creative twist on holiday dishes.
Chai's mission is to engage young adults, ages 20 to 30, in creating meaningful connections and establishing a sense of belonging in a Jewish community, while participating in dynamic programming. Chai partners with other organizations in the surrounding community who offer enjoyable and interactive activities.
Chai chose Lajollacooks4u for the cooking series because of their unique, hands-on activity and Chef Jodi's expertise and enthusiasm.
Kobernick expressed her enthusiasm for the upcoming cooking series and the importance of the private location, "I am excited to proceed with the cooking course, and having it in an intimate home environment sets this up as a wonderful event," Kobernick said.
Lajollacooks4u is equally thrilled about programming the cooking class series for Chai at Beth El. With limited space, reservations ought to be made soon.
Lajollacooks4u welcomes nonprofit organizations and businesses planning their next program to participate in Lajollacooks4u's unique and exciting cooking activities. Lajollacooks4u offers the perfect opportunity to explore new skills and interests, while allowing members to build a sense of community and develop friendships in the non-commercial setting of Chef Jodi's kitchen, nestled in the beautiful and scenic Mount Soledad environs.
About Chai at Congregation Beth El
Chai at Beth El is a spiritual home for young adults in San Diego, seeking to help young adults create meaningful connections and establish a sense of belonging in a Jewish community while participating in dynamic programming that launches personal, mental, spiritual, and emotional growth. Chai works to partner with other organizations to build community relationships, ensure seamless transitions between various life stages for our participants, and inspire young adults to lead fulfilling Jewish lives.
For more information on the cooking series with Chai, contact Elana Kobernick at 858.452.1734 or chai(at)cbe(dot)org.
About Lajollacooks4u
Lajollacooks4u, founded in 2008, provides a unique and intimate activity for couples, corporate team-building, and any foodie looking for a cooking and culinary experience in an ideal setting overlooking the Pacific Ocean. Based in La Jolla, a suburb of San Diego, CA, Lajollacooks4u has enjoyed record growth since its inception and is ranked as a top attraction in La Jolla on the world's largest travel review site, Trip Advisor. For more information, contact Jodi Abel at jodi(at)lajollacooks4u(dot)com or phone 1-858-752-4980.
Lajollacooks4u customizes all events to meet the desires and needs of the company and organization. For reservations, contact Jodi Abel, as listed above, or visit Lajollacooks4u's website at http://www.lajollacooks4u.com.