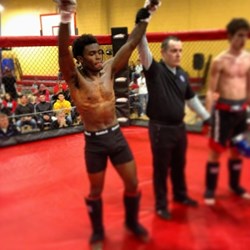 That was the most fun I've ever had.
Belcamp, MD (PRWEB) January 28, 2014
This past weekend Marcus Gash, of the Top Flight MMA Teen Program, expanded his martial arts experience from winning expert divisions at grappling tournaments to stepping into the cage for a kickboxing match in front of a packed house. Gash was one of many fighters on a stacked Stellar Fights card to step into the cage and bring the action.
Young Gash is no stranger to the adrenaline of competition and welcomed the challenge of testing his abilities out against another young fighter.
In a short recap of his Muay Thai debut Gash utilized his powerful kicks to keep his opponent at bay, repeatedly land kicks to the legs, body, and arms. As Gash found success with his kicks he started to land more of his punches, particularly his cross to the head. As the second round started Gash's opponent picked up his pace and the two fighters traded intense flurries, both landing solid shots. In the third round Gash found more success with his kicks and mixed in more punches to follow his kicks. At one point Gash had his opponent trapped on the cage as he unloaded heavy leather to his opponents head and body. Gash would end this extraordinary showing with a spinning back kick that sent his opponent flying to the cage, and thus solidifying his unanimous decision victory in his Muay Thai cage fighting debut.
Gash had this to say about his debut win in the cage, "That was the most fun I've ever had! I was a little nervous because of all the people screaming and the lights and cameras but I was confident in my abilities because we train hard at Top Flight. I train with the best people and I can't wait to do this again."
Gash's coach in the Teen program, Joey Stallings, had this to say, "That was awesome, I know Marcus is on an all time high, stepping in the cage and getting a hard fought win in his debut. Marcus is really talented and a joy to coach. With all this ability you could see most teens his age letting it go to their head, but Marcus stays cool, humble and confident. I knew Marcus would do well, win, lose or draw. And I guess it doesn't hurt in being able to spar with a professional fighter on regular basis to make your skills sharp." Stallings was referring to Gash sparring with pro MMA fighter and Top Flight MMA owner Ron "ChoirBoy" Stallings.
Gash's mother, who was in attendance, had this to say about her son, "I'm extremely proud of my son. I was confident that Joey and Ron prepared him well and am just happy that he was unharmed and got the win. I love what the Top Flight has done for Marcus, not just for winning tournament and fights but for his confidence and desire to do well in school, just everything."
It is noteworthy to mention that Gash is a Honor Roll student at Edgewood High School and has already committed to Morgan State University where he will go in the fall to pursue a degree in business.
With the experience under his belt Marcus has embarked on a path that will lead to him become a spectacular talent on the MMA scene in the years to come.
For more information on Marcus Gash or the Top Flight MMA training program please contact the school.