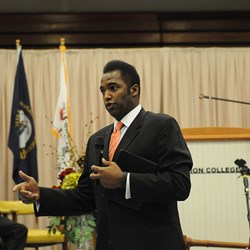 Being a true servant means being humble and knowing you're never really done.
Barbourville, KY (PRWEB) February 04, 2014
Kevin Singleton, Union College alumnus and founder of Elevate New York, addressed Union College students, faculty and staff during Spring Convocation last week and emphasized what it means to serve.
He called his message, "From Union to Uganda: A Life of Service," and broke his message into four parts, each a letter from the word serve, though Singleton shortened it to "SERV."
The "S," Singleton said, represents selflessness. He told students, "a servant is a person who is selfless," or someone who puts the needs of others before the needs of himself. The "E" stands for epistemologically aware. This means, in order to serve a community, one must learn about the culture and habits of the community first, so as not to offend them. "Walk in the culture, learn the culture, or you'll offend the culture," Singleton said. The "R" is for repentant, and Singleton told students that in order to be a true servant, they each have to be willing to change themselves. Finally, the "V" stands for vulnerable. "If you're not real, if you're not vulnerable, you can't live to help people," Singleton said.
He summed up his message in one sentence, saying, "Being a true servant means being humble and knowing you're never really done." He then closed convocation by praying for the students in attendance.
Also during the convocation service, Union President Marcia Hawkins recognized Operation UNITE, an organization started with the help of U.S. Rep. Harold "Hal" Rogers, that aims to create a drug free culture in our region. Hawkins presented a citation recognizing their achievements to Dale Morton, communications director at Operation UNITE.
Spring Convocation was held, Thursday Jan. 23 in Robsion Arena. Spring Convocation marks the official start of Union's spring semester and is held annually.