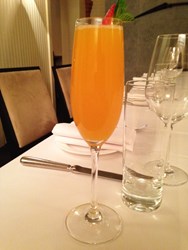 Greenwich, CT (PRWEB) January 28, 2014
Morello Italian Bistro is adding a dash of romance to its traditional Italian menu with heart-melting a la carte specials this Valentine's Day. The scrumptious specials will be offered Friday, Feb. 14, Saturday, Feb. 15 and Sunday, Feb. 16.
There's no better place to impress a loved one than the stylish, sophisticated setting of Morello. Guests will dine under the dramatic tiled arches and vaulted ceilings designed by world-famous architect Rafael Guastavino, Jr. and experience elegant cuisine made of the highest quality ingredients.
Begin the evening with a specialty Valentine's Day cocktail – a Tangerine Bellini made with Prosecco, Grand Marnier, and tangerine purée or a Crema Di Lampone Martini made with Absolut Vanilla vodka, Bailey's Irish Cream, and raspberry liquor finished with a cocoa nib tuile.
Choose from mouthwatering appetizers including yellowtail crudo in a pomegranate-fennel dressing and seared fois gras in a pineapple-citrus conserva with toasted brioche. Then, please your palette with decadent risotto with crab, hand-rolled Trofie pasta with rock shrimp, pan-seared halibut in a ginger-romaine broth, or bone-in grilled veal chop with porcini mushrooms, potatoes, and late harvest radicchio salad.
Finish the romantic and savory experience with one of Morello's unforgettable Valentine's Day desserts, like Coure di Crema, a delicate heart-shaped dessert made with chevre and mascarpone cheeses – translating to "heart of cream" in Italian – and Chocolate Pavlova, a light and airy meringue served with tangerine whipped cream, dark chocolate sauce and seasonal fruit.
"These Valentine's Day specials will certainly make for a romantic night out," said Jimmy Branigan, general manager of Morello. "We love helping couples celebrate this evening and make it as memorable as possible."
Reservations for Valentine's Day dinner are recommended and can be made by calling Morello at (203) 661-3443.
About Morello:
Morello Italian Bistro is located at 253 Greenwich Avenue, in the heart of Greenwich, CT, open seven days a week, serving lunch, brunch and dinner. Morello offers guests a menu of exceptional rustic Italian cuisine with a modern twist, incorporating local ingredients whenever possible. Seasonal cocktails and an extensive wine list are created by wine and beverage connoisseur Olivier Flosse, Wine Director for MARC US. Located in a historical landmark building designed by Rafael Guastavino Jr., featuring stunning tiled arches and vaulted ceilings with dramatic skylights, Morello is the perfect setting for intimate dinners, private parties and corporate events. Reservations are accepted and can be made by calling (203) 661-3443. For additional information, please visit http://www.morellobistro.com, "Like" Morello on Facebook and follow on Twitter @MorelloBistro.
About MARC Ltd.:
Under the direction of Chairman Marlon Abela, MARC (Marlon Abela Restaurant Corporation) offers an international collection of restaurants and enterprises that realize a sense of discovery and passion. The diverse portfolio includes eight restaurants throughout London and the east coast of the United States. MARC is renowned for delivering food excellence by providing cutting-edge cuisine that is united by a consistent commitment to quality food and impeccable service, in exceptional surroundings.
Internationally, MARC is a unique restaurant group in terms of the variety it offers, specializing in an array of different cuisines, including French, Italian and Japanese. MARC differentiates itself further by implementing an impressive wine program across the group, and has achieved Wine Spectator's Grand Award in USA and UK-based restaurants, an accolade no other independent restaurant group has accomplished.