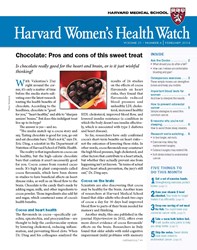 Boston, MA (PRWEB) February 04, 2014
Whether it comes inside a big red heart or wrapped in gold foil, chocolate is synonymous with Valentine's Day. The February 2014 Harvard Women's Health Watch investigates whether the health claims often made for this indulgent treat are as sweet as they sound.
According to the headlines, chocolate is "good for you," "heart-healthy," and able to "sharpen seniors' brains." But does this indulgent treat live up to its hype? The answer is yes—and no.
"The media snatch up a cocoa story and say, 'Eating chocolate is good for you, go out and eat chocolate bars.' That's not it," says Dr. Eric Ding, a research scientist in the department of nutrition at Harvard School of Public Health. The reality is that ingredients in cocoa can be healthy, but the high-calorie chocolate bars that contain it aren't necessarily good for you.
Cocoa comes from roasted cacao seeds. It's high in plant compounds called cocoa flavonoids, which have been shown to have beneficial effects on heart disease risks and on blood flow to the brain. Chocolate is the candy that's made by adding sugar, milk, and other ingredients to cocoa powder. Those ingredients also add fat and sugar, which counteract some of cocoa's health benefits.
Many of the studies on cocoa's benefits used an average flavonoid dose of 400 milligrams a day. "The problem is, that's about the equivalent of eight bars of dark chocolate or 30 bars of milk chocolate," he says. "When you eat these actual chocolate bars, all the calories and sugar come with them."
To get the health advantages of cocoa flavonoids without the fat and calories, consider buying a more concentrated cocoa product. Some cocoa supplements on the market contain up to 250 milligrams of cocoa flavonoids per serving.
Read the full-length article: "Chocolate: The pros and cons of this sweet treat"
Also in the February 2014 issue of the Harvard Women's Health Watch:

Effective exercises for osteoporosis
4 important blood tests for women—and what the results mean
How to prevent colorectal cancer
Harvard Women's Health Watch is available from Harvard Health Publications, the publishing division of Harvard Medical School, for $20 per year. Subscribe at http://www.health.harvard.edu/newsletters/womens or by calling 877-649-9457 (toll-free).
XXX
Media: Contact Kristen Rapoza at hhpmedia(at)hms(dot)harvard(dot)edu for a complimentary copy of the newsletter, or to receive our press releases directly.