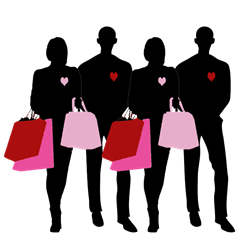 In today's ultra-competitive marketplace, how a retailer sells is just as important as what they sell.
Seattle, Washington (PRWEB) January 29, 2014
A ShopperTrak article noting that December 2013's in-store traffic was a startling 17.7% less than the prior year was merely the punctuation mark to what many brick and mortar retailers had already observed first hand. With in-store retail traffic down, many retailers' holiday sales expectations also missed the mark.
A closer look at consumer shopping behavior during the holidays provides four key insights for brick and mortar retailers as they prepare for Valentine's Day and other selling seasons throughout the coming year.
It Takes More than Sale Prices to Get Customers to Bite
For brick and mortar retailers, a sale (even a sale preceded by a big loss leader) was not enough to lure deal-bombarded consumers inside their stores to shop. What's more, customers that did respond to deeply-discounted items, door busters or loss leaders did not always stay to shop.
Brick and mortar retailers also need a marketing plan that goes far beyond a sale or deep discount. A multi-channel, integrated, timely Valentine's Day marketing plan that not only reflects an understanding of what types of items are most likely to attract Valentine's Day shoppers but also caters to the convenience of shoppers can be a far more powerful tool in growing sales in the weeks ahead.
The Migration to Digital is a Transition, Not a Trend
Consumers spoke loud and clear with their time and wallets in 2013, telling the market that gains by online retailers were no accident. With consumers moving from browsing in-store to browsing online, brick and mortar retailers need to adjust their brand and marketing in several key ways:

Web sites for PC and mobile devices that are designed for intuitive, easy navigation, browsing and extensive consumer research including pricing, features and benefits, stock levels and purchasing options
The addition of web site purchasing, mobile apps and other digital tools that make it as easy as possible for consumers to purchase or reserve items for pick up
Optimizing web sites and other online content (such as press releases, email newsletters, blog articles and social media posts) for local search
Busy Consumers Need to Know Why – Not Just What
Consumers are bombarded with marketing messages, so retailers must provide them with reasons why they should choose their wares as Valentine's Day gifts over other alternatives. To bring customers in store to shop and keep them there to browse, brick and mortar retailers must differentiate both their inventory and the customer experience.
"Giving customers more to choose from, especially when a retailer expands inventory with Valentine's Day gift items that consumers cannot purchase elsewhere, can be the tipping point to get local customers to convert from digital research to in-store purchases," notes Tom Glazier, VP of Operations for DB Squared Business Finance.
Noting that many retailers have discovered that using merchant cash advances to expand retail inventories just ahead of busy holiday selling seasons gives them the means to attract new customers and increase average ticket sales at the cash register, Glazier says that, "Without investing in this type of inventory expansion, it can be difficult to persuade the local consumer to take time out of their busy schedule long enough to stop and shop."
Convenience Tips the Scale
With more and more digital retailers providing free shipping and fast delivery options, brick and mortar retailers need to step up their game when it comes to consumer convenience. Providing free shipping and local delivery options as well as online ordering, curbside pickup and other customer conveniences can tip the scale when it comes to selling more Valentine's Day retail products or services.
***
Elizabeth Kraus is the Marketing Manager of business finance company DB Squared, as well as the author of small business marketing books, including 365 Days of Marketing and the 2014 Small Business Marketing Calendar.