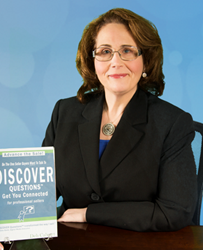 Questions equip sellers to create value out of thin air.
San Jose, CA (PRWEB) February 05, 2014
Deb Calvert, founder of Morgan Hill, CA based People First Productivity Solutions and author of "DISCOVER Questions™ Get You Connected," will be interviewed during the February 5 episode of "The Brutal Truth about Sales and Selling." Brian Burns, show host, consultant and author of "The Maverick Selling Method," will ask Calvert to share the question-asking secrets of top sellers.
After a 25-year career in sales and training, Calvert founded People First Productivity Solutions, dedicated to "building organizational strength by putting people first" in 2006. Since then, she has developed successful training programs for a wide variety of companies, founded the CONNECT! Community of for professionals who want stronger connections, and written "DISCOVER Questions™ Get You Connected for Professional Sellers," a finalist for Top Sales & Marketing Book of 2013.
During this podcast, Burns and Calvert will discuss the DISCOVER Questions™ technique, which identifies eight purposes for asking questions and instructs sellers on how to pinpoint those purposes to ask questions more effectively. Calvert will clue listeners in to the secret that many top sellers already know – asking questions results in stronger customer bonds and helps to advance the sale to a close.
"The Brutal Truth About Sales & Selling" is a twice-weekly podcast for sellers who are tired of plug-and-play methods. Using the Maverick Selling Method model, host Brian Burns covers a wide range of selling tips for B2B and professional sellers. This brutal, "no BS allowed" podcast is a must for those who are in sales and are honing their selling skills.
Burns is a consultant and the author of "The Maverick Selling Method: Simplifying the Complex Sale." This method was developed over the course of a successful 25-year career in sales, leadership and management. He founded TMO, a consulting firm specializing in assisting companies with their sales strategy, sales practices and in developing an effective sales team.
To tune in, visit the show on Stitcher or iTunes at 9 am EST. To purchase Calvert's book, visit Amazon.com.