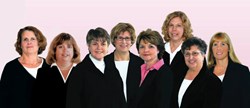 Neenah, Wisconsin (PRWEB) January 30, 2014
In light of recent retail security breaches and privacy issues, consumers may be more cautious about sharing their personal information and which sites they visit, according to telecommunications company Ericsson. In an age when data is mined, stored, shared, hacked and sold, there are benefits to shopping with smaller, family-owned businesses, says Lynn Wilson, Founder of The CareGiver Partnership, a resource for seniors and caregivers and online retailer of incontinence supplies and other home health care products.
Because the Internet has become part of our daily lives, the risks associated with being connected are becoming more apparent. In a recent publication by Ericsson, "10 Hot Consumer Trends 2014," 56 percent of daily Internet users throughout the world are concerned about privacy issues, but only 4 percent said they would use the Internet less. Instead, 93 percent would choose to reduce risk by being more cautious about the personal information they provide and which sites they visit.
When it comes to data mining, incontinence and bladder control are important categories for U.S. consumer marketing profilers. When consumers use all those stores' rewards cards, purchase information is added to their profiles. A profile is started when a customer signs up for a reward card, sometimes called a courtesy card, which promises discounts and coupons in exchange for personal information.
"You may not care if a company knows what kind of undergarments you buy. But when a profile is created from product purchases, prescription and over the counter medications, e-mail addresses, phone numbers and more, it's fairly easy to figure out who you are, where you live and which medical conditions you have."
Wilson says she's not trying to scare people, but rather teach them they can take small steps toward protecting their data.
"Since The CareGiver Partnership's beginnings in 2004, we've focused on providing 1950s-style customer service. At that time, it meant most calls are answered by the third ring by a real person based in Neenah, Wisconsin," Wilson says. "Today, it also means we won't collect, share or sell a customer's information. Our team of knowledgeable Product Specialists, made up of women who are experienced caregivers, keep every discussion and order confidential."
That high level of confidentiality extends to product delivery as well. Most products are shipped in discreet boxes. "Our customers tell us confidentiality is important to them, and that is why we offer our unique brand of customer service called Personalized Attention(SM) and why we keep our customers' information private and secure."
Customers of The CareGiver Partnership who shop online find something missing on this company's Web site: advertisements. Although the company doesn't accept advertising, it does welcome customer feedback using the site's Contact Us page or via a short survey. Contact The CareGiver Partnership's team of Product Specialists at 1-800-985-1353 for personalized help with products and services, or visit its blog, filled with hundreds of free articles for seniors and caregivers.
The CareGiver Partnership is a national direct-to-consumer retailer of home health care products for incontinence, diabetes, nutrition support and more. In its seventh year of providing products and services that help caregivers and loved ones maintain personal dignity, the company also offers an online library of more than 1,500 family caregiver resources and personal service by experts in caregiving. Call 1-800-985-1353 or visit online at caregiverpartnership.com.