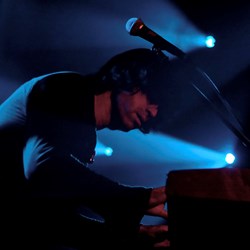 Find something that interests you and go discover it
New York, NY (PRWEB) January 29, 2014
The life of a rock star can certainly be very exciting and rewarding, but being on the road for weeks at a time can be a little daunting for even the most seasoned traveler. Just ask MikelParis™ (MP), solo musician and keyboard player for the popular rock band, O.A.R., who spends about two-thirds of the year on the road playing music at venues all over the world. ExpertFlyer caught up with MP just after O.A.R. performed at the Sundance Film Festival in Park City, Utah earlier this month. During the interview, he shared his thoughts about traveling with the band, his unique video series called "TuneTrek", and his new solo album titled, "HIHOWAREYA™," Vol 1.
TuneTrek™ is a video project MP created initially to help get him out of the hotel and explore the cities he visited while on tour with the band, but TuneTrek quickly became a creative way to combine his interest in history, photography, and music. Now, 25 episodes later, MP has discovered a magical way to maximize the little time he has to explore the towns and cities along the way. "Each 5-7 minute episode gives a little history of the venue I visit, and shares my journey to each destination in a lighthearted, but educational manner. Each episode culminates with a song I perform inside each historic landmark I visit."
One thing MP learned since creating his TuneTrek series is that he doesn't need days of downtime to really experience the soul of a city or feel connected with the people. Oftentimes an afternoon is all he has -- and all he needs -- to make that connection. "When I speak with other business travelers they don't feel they have enough free time to do anything 'significant' so they sit in the hotel bar, take a nap, or go back to their room and answer emails. Find something that interests you and go discover it. I guarantee every city has something waiting to be appreciated."
Some of MikelParis' favorite cities include St. Petersburg, FL., Philadelphia, PA., and Cincinnati, OH, among many others. You can watch his TuneTrek series to learn why.
"It's interesting to note the parallels between business travelers, regardless of what business you are in," explains Chris Lopinto, president and co-founder of ExpertFlyer.com. "MikelParis discovered a wonderful way to take advantage of the little time he has during his business travels and offers other travelers an interesting perspective on how they can maximize their time."
To read the entire interview with MikelParis, please visit ExpertFlyer's blog.
About MikelParis
From Germany to Australia, New York to London, MikelParis has graced stages worldwide. He joined the renowned cast of STOMP intensifying his passion for rhythm and groove. He parlayed this experience into working with Platinum selling artist PINK, TRAIN, renowned comedy rockers The DAN BAND, folk singer JEWEL and eventually American touring staple O.A.R. In addition to sharing his talent with other artists, MP also has a prolific solo career and has developed a unique style of playing the acoustic guitar called "GuitarDrumming." It infuses his piano and rhythmic skills into an organic, groove oriented sound that has become the foundation for many of his songs. In his debut solo release "FLOW", he infuses this "GuitarDrumming" style and dynamic melodies into a collection of songs that truly reflect the album's title. His live release "LIVE AT THE EGG" features his trio and his latest single "GREAT UNKNOWN" has been played during the pre show music at O.A.R concerts. MP is currently releasing songs from his upcoming "HIHOWAREYA Vol. 1" release, filming and airing episodes of his travel and music show, "TuneTrek ", live streaming, developing a multimedia live show, and has started giving performance presentations at Apple stores and corporate events.
About ExpertFlyer.com
Each month, ExpertFlyer's One-on-One blog goes face-to-face with the travel industry's leading decision makers to discuss and address topics relevant to many of today's business and frequent travelers.
ExpertFlyer.com was conceived and created by an eclectic team consisting of a veteran elite tier frequent flyer, an airline captain and corporate travel manager, and information technology professionals to deliver a 24/7 real time powerful air travel information service. The company provides its subscribers and corporate travel managers alike with a complete, concise and efficient way to access the ever-changing details of worldwide air travel information. For more information about ExpertFlyer or to learn about their free award-winning Seat Alerts® app, please visit expertflyer.com.
# # #