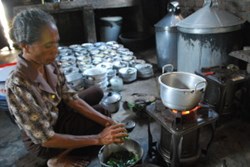 As part of our three-fold mission to practice excellence across the full spectrum of climate, community andbiodiversity, we have instituted a fuel-efficient cook stove distribution program among local villagers. - Todd Lemons, CEO of InfiniteEARTH
Causeway Bay, Hong Kong (PRWEB) January 28, 2014
InfiniteEARTH announced that Indonesia's Rimba Raya Biodiversity Reserve has successfully furnished over 100 households with fuel efficient, smokeless, cook stoves.
According to input from all 100 test households, the pilot program was a resounding success and is planned to roll-out to the entire population, over 2,500 households, by end of April, 2014.
"As part of our three-fold mission to practice excellence across the full spectrum of climate, community and biodiversity, we have instituted a fuel-efficient cook stove distribution program among local villagers," says Todd Lemons, CEO of InfiniteEARTH, the project developer.
The bulldozers of industrial agribusiness are not the only threats to our forests and our climate. Fuel wood harvesting for cooking is a major cause of deforestation and degradation throughout the world. What's more, indoor air pollution from the 3-billion plus conventional biomass cooking stoves in use around the world is the 4th largest health risk globally. Over four million people die (one person every 8 seconds) every year from exposure to conventional cook stove smoke–and even more from cancer and chronic lung disease. "This effort reduces the need for fuel wood harvesting by over 50%, reduces indoor pollution and encourages safer cooking practices; all aimed at promoting a healthier and more sustainable growth model among the surrounding communities."
The Rimba Raya Biodiversity Reserve Project is the world's largest initiative to protect and preserve lowland peat swap forests – one of the most highly endangered ecosystems in the world and is the largest-ever REDD project to see its emission reductions verified under the Verified Carbon Standard by proving that it reduced greenhouse gas emissions by more than four million tons in one year – and may reduce nearly 120 million over the 30 project life.
About InfiniteEARTH
InfiniteEARTH's ultimate mission is to move the world from an unsustainable extractive economy to a sustainable replacement economy by changing the way the world views the consumption and pricing of goods and services.
This starts by helping companies find creative ways of engaging their customers in the process of sustainability. In doing so, the connection between corporate and customer values are reinforced and brand affinity enhanced. Our efforts to reduce consumption will never completely eliminate the heavy demands we place on the planet. But we can compensate through replacement with environmental offset initiatives.
For additional information, please visit Rimba Raya Biodiversity Reserve of InfiniteEARTH.