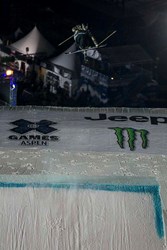 I learned the switch 900 last year and it's been one of my stock tricks, but I wanted to do the switch 1080 in Russia, so I thought it'd be good to warm it up here. I was really excited to be able to put it down in my run. - Maggie Voisin
Aspen, CO (PRWEB) January 28, 2014
Monster Energy, the official energy drink of X Games Aspen 2014, congratulates its team on a hugely successful weekend of competition. The crew took 16 medals across snowboard, ski, and snowmobile disciplines.
For full event recaps with photos and video, visit monsterenergy.com. Highlights include:
In Women's Snowboard Slopestyle, Monster Energy teammates Silje Norendal and Jamie Anderson once again took the gold and silver in an exciting event, repeating their victory from last year at X Games Tignes. Anderson held the top spot with her first run until the end when Norendal beat her out on her last run in a very close competition to claim her second straight gold in slopestyle with a score of 96 to Anderson's 95.66.
In a hotly contested final, Kaitlyn Farrington earned a hard fought bronze in Women's Snowboard. She delivered with highlights including an air to fakie, a big allie oop 540, back-to-back 720's, and an inverted 720 on her last hit. This is the Monster Energy athlete's 2nd X Games medal following up her silver in Snowboard SuperPipe in 2011.
Nate Holland continued his dominance in Snowboarder X by taking the gold once again. He overcame a bevy of obstacles including the flu this week and a broken collarbone earlier this year to earn his 7th gold and 8th medal overall in Snowboarder X.
In Snowboard Real Snow, the all-urban, all-video snowboard part event, Bode Merrill took the gold and teammate Dylan Thompson the bronze. Both parts feature heavy street obstacles, massive transfers, big drops, and huge rails. Check out Merrill's part here: http://espn.go.com/video/clip?id=10243700. Check out Thompson's here: http://espn.go.com/video/clip?id=10242564.
Henrik Harlaut successfully defended his Ski Big Air title by taking the gold in dominant fashion. The eccentric and eternally positive Swedish skier unveiled a nose butter triple cork 1620 safety grab (only the second time he's thrown the trick) and a switch tail butter double cork 1080. He won with a three-point margin to make for consecutive golds in the event.
In Men's Ski SuperPipe, David Wise took the gold and Kevin Rolland backed him up with the silver. Wise pulled a rightside double cork 1260 mute, a leftside double cork 1260 mute, and other tech tricks—he's one of the only guys doing back-to-back double cork 1260 combos, and by far the most consistent at it. The win for Wise makes for an incredible third-straight gold in Ski SuperPipe.
Fifteen-year-old freeskiing phenom Maggie Voisin earned the silver medal in Women's Ski Slopestyle. Despite her age, she was pulling some of the biggest tricks, including her switch left 1080 mute—she's the only one pulling it in competition. Not only is it her first medal, but Voisin is also the youngest skier to ever medal at X, and will be the youngest U.S. athlete to compete in the Olympics in Sochi.
Joe Parsons and Heath Frisby doubled down on the Snowmobile Freestyle podium, taking the silver and bronze respectively. Parsons unleashed a cordova flip, a KOD indy flip, and his signature gator wrestler, an incredible backflip variation he unveiled at last year's X. Frisby delivered too: an underflip, indy super flip, a big no-footed can flip, and a KOD flip. The night was extra special for Parsons, who now has an incredible 13 medals to his name.
Cory Davis bagged a silver medal in Snowmobile Long Jump, an event that returned to X for the first time since 2010. Davis flew 142'11" to mark his 3rd career Winter X medal.
Tucker Hibbert did it again, earning yet another gold in Snowmobile SnoCross. It's his 8th X Games gold, including wins for the last seven years in a row. His teammate Kody Kamm backed him up with the silver, making for a 1-2 finish for the Monster Energy team.
Doug Henry took the bronze medal in Adaptive Snocross, an event that allows riders with disabilities the chance to make special modifications to their sleds and race the same course as the Snocross event. Henry came out of the first turn near the front of the pack, and went on to run most of the race in 4th place before finally battling to the bronze late in the race. It's the six overall X Games medal for Henry, including four medals at Winter X and two at Summer X.
To celebrate the team, Monster Energy threw a massive party at 11,000, an event that's become a staple of Winter X and the weekend's must-attend party. Athletes, guests, industry VIP's, and media took the gondola to the top of the mountain and got down to the sounds of Roofeeo of Brooklyn and DJ Laybourn.
For more on the world-class Monster Energy team check out monsterenergy.com. Throughout X Games Aspen 2014, the site was filled with exclusive photos, videos, and behind-the-scenes happenings direct from the contest.
###
About Monster Beverage Corporation:
Based in Corona, California, Monster Beverage Corporation is the leading marketer and distributor of energy drinks and alternative beverages. Refusing to acknowledge the traditional, Monster Beverage Corporation supports the scene and sport. Whether motocross, off-road, NASCAR, BMX, surf, snowboard, ski, skateboard, or the rock and roll lifestyle, Monster is a brand that believes in authenticity and the core of what its sports, athletes and musicians represent. More than a drink, it's the way of life lived by athletes, sports, bands, believers and fans. See more about Monster Beverage Corporation including all of its drinks at http://www.monsterenergy.com.