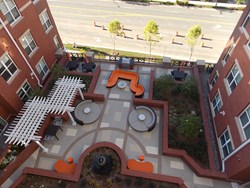 Dunn Loring, Virginia (PRWEB) January 28, 2014
Concrete Décor Magazine is featuring Sundek of Washington's decorative concrete pool deck and patio on the fifth floor of the high-rise Dunn Loring Metro apartments in Dunn Loring, VA. The project was completed using roughly 7500 square feet of Sundek Classic Texture in Pewter Gray, Mission Tan and Clear, creating a modern, elegant finish that complemented the overall aesthetic of the complex.
The Sundek installers said, "This featured Sundek Classic Texture project brought the elegance of architect Adam Steiner's creative design work into a stunning reality. The Sundek Classic Texture overlay system with an array of patterns and blended colors achieved a level of visual artistry that matched the newly built high-end apartment complex at Dunn Loring."
The project is also an entrant in the 2014 Decorative Concrete Awards, given out by the American Society of Concrete Contractors' Decorative Concrete Council. The winners will be announced at the 2014 World of Concrete convention in Las Vegas.